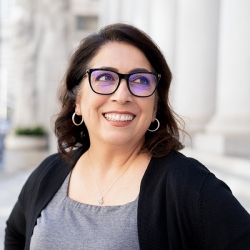 Pat Navarro
Council on Foundations
Director, People
Pat Navarro is the Director of People with a master's degree in Human Resources Management from Golden Gate University in San Francisco, California. Prior to joining the Council, Pat worked as a Human Resources Manager at the San Francisco Campus for Jewish Living, which is a nonprofit skilled nursing organization for 10 years.
As a HR professional she has proven success in creating cultures of collaboration and implementing change to achieve workforce excellence. Pat possesses experience in wide range of human resources including benefit administration, staff recruitment, managing ADP and coaching staff. Prior to that, she held HR positions with Zip Realty and the Anaheim Ducks. She is passionate about solving everyday challenges for employees and eager to be at the Council.
Pat was born and raised in Southern California and has been living in San Francisco for over a decade. Outside of work, Pat enjoys reading, hiking, and traveling. She loves spending time with her partner of 18 years and her two (2) dachshund pups, Floyd and Fritta.