2016 Endowments and Finance Summit - Sponsor Opportunities
Sponsor Opportunities
2015 Endowments and Finance Summit Audience At A Glance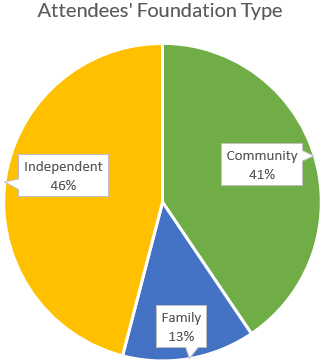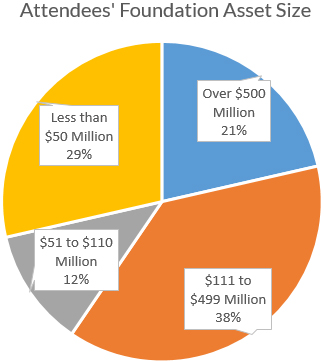 Why Sponsor the Endowment and Finance Summit?
Sponsorship is one of the best ways to brand your organization as a thought leader and to highlight your commitment to advancing the philanthropic sector. As a sponsor, you will be able to:
Connect with industry decision makers. Seventy percent of the 2015 Endowments and Finance Summit attendees were C-suite executives with the majority having six or more years of financial or investment management experience.
Showcase your organization's expertise at a best-in-class educational experience for Council members. The Council represents organizations with combined assets of over $210 billion and approximately $15 billion in giving.
Demonstrate your leadership. The Endowment and Finance Summit is the only event that brings together leaders from foundations of all asset sizes, types, and geographies for in-depth learning and networking.
Sponsor Packages
Education Partner ($100,000 or more) - SOLD
The Council thanks the TIAA Institute for its generous support as Education Partner.
Recognition as top supporter of Summit – Education Partner level exclusive
Acknowledgement from podium at top supporter during opening and closing plenaries — Education Partner level exclusive
Recognition as top supporter on stand-alone signage
Opportunity to introduce a guest speaker at a plenary session
Organization featured on Summit website masthead
Logo and sponsorship featured in relation to two (2) pre-Summit learning opportunities
Five (5) complimentary registrations to the Summit
All other benefits bestowed at the Leadership level
Leadership Partner ($50,000-$99,999)
Limited to One (1) Partner
Acknowledgement from podium during opening and closing plenaries
Recognition as leading supporter on stand-alone signage
Four (4) complimentary registrations to the Summit
Logo with hyperlink featured prominently on Summit website
Logo looping on digital wall displays during Summit, if available
All other benefits bestowed at the Supporting Partner level
Supporting Partner ($25,000 to $49,999)
Limited to Two (2) Partners, One (1) Available
Acknowledgement from podium during opening and closing plenaries
Three (3) complimentary registrations to the Summit
Logo with hyperlink featured prominently on Summit website
Logo looping on digital wall displays during Summit, if available
Logo with hyperlink featured on the Council's Supporters webpage
All other benefits bestowed at the Lunch or Closing Plenary Partner level
Lunch or Closing Plenary Partner ($20,000)
Limited to Two (2) Partners
Acknowledgement from podium during sponsored session. Session topics are predetermined.
Three (3) complimentary registrations to the Summit
Photos with Council leadership during Summit
Logo featured on-screen at Summit plenary sessions
Logo and sponsorship featured in Summit marketing
All other benefits bestowed at the Networking Reception Partner level
Networking Reception Partner ($15,000)
Limited to One (1) Partner
Opportunity to welcome attendees to the sponsored networking reception — Networking Reception Partner exclusive.
Two (2) complimentary registrations to the Summit
Mention pre- and post-Summit in the Council's e-newsletter, This Week
All other benefits bestowed at the Concurrent and Pre-Summit Session Partner level
Pre-Summit Session Partner ($10,000)
Limited to Two (2) Partners
Acknowledgement from podium during sponsored pre-Summit session. The two pre-Summit session topics are community foundations and impact investing on Wednesday, September 28th — Pre-Summit Session Partner exclusive.
Two (2) complimentary registrations to the Summit
Name with hyperlink included on the Council's Supporters webpage
Name included in media release for Summit
All other benefits bestowed at the Learning Lab and Technology Partner level
Concurrent Session Partner ($10,000)
Limited to Five (5) Partners, One (1) Available
Opportunity to participate in a 90-minute concurrent session as part of a balanced group of practitioners, service providers, and foundations on a topic mutually agreed upon with the Council - Concurrent Session Partner exclusive
Two (2) complimentary registrations to the Summit
Name with hyperlink included on the Council's Supporters webpage
Name included in media release for Summit
All other benefits bestowed at the Learning Lab and Technology Partner level
Learning Lab Partner ($5,000)
- SOLD OUT
Limited to Two (2) Partners, 0 Available
Opportunity to present on a mutually agreed upon topic during 60-minute block session on Thursday, September 29th — Learning Lab Partner exclusive
One (1) complimentary registration to the Summit
Logo featured on onsite Summit signage
Organization description featured on Summit sponsor page
All other benefits bestowed at the Breakfast Roundtable Partner level
Technology Partner ($5,000)
- SOLD OUT
Limited to One (1) Partner, 0 Available
Recognition as the official sponsor of the Summit's app and free WiFi — Technology Partner exclusive
One (1) complimentary registration to the Summit
Logo featured on on-site Summit signage
Organization description featured on Summit sponsor page
All other benefits bestowed at the Breakfast Roundtable Partner level
Breakfast Roundtable Partner ($2,500)
- SOLD OUT
Limited to Seven (7) Partners, 0 Available
Opportunity to lead a discussion on a mutually agreed upon topic at a 10-top table

on Friday, September 30th

— Breakfast Roundtable Partner exclusive
Signage with logo on sponsored table
One (1) complimentary registration to the Summit
Promotion of sponsorship over social media
Exposure in Summit marketing efforts
All other benefits bestowed at the Partner level
Partner ($2,499 to $1,500)
Logo with hyperlink on Summit sponsor page
Logo featured in on-site program
Sponsor ribbons at Summit for all organization representatives
Mention in This Week e-newsletter post-Summit