2018 Interns: Wrapping Up the Summer
Monday, August 20, 2018 - 12:26 pm
Editor's Note: The Council thanks our 2018 summer interns for their hard work over the past few months. The summer interns were: Ashul Agrawal, Michael Kelly, Reilly Tifft, Caroline Healey, Chris Tian, Ashley Morrison, and Randall Williams.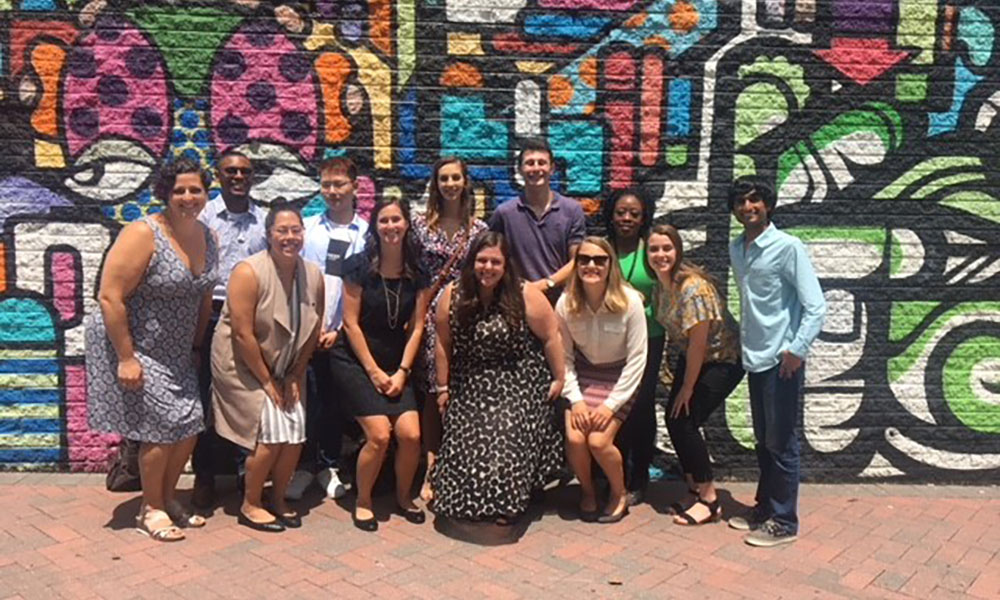 As the summer is coming to a close, so is our time with the Council. This internship has provided unique experiences in and out of the office. The seven of us have been able to work on projects, be in contact with different foundations and much more that has helped us gain knowledge we would not have without the Council. Most of all, the Council has allowed us to make connections with different staff members that have provided insight into things that aren't as clear. To wrap things up I interviewed six of us to talk about their time with the Council.
What did you expect out of this internship?
Caroline – I hoped to learn a lot more about foundations and how the philanthropic center functions
Anshul- I expected to learn a lot about government relations and what that interns, and how to work in a general office space.
Reilly – To learn a lot about what philanthropy does and expected to broaden my network in the nonprofit sector
Ashley – Expected to get a better idea of what goes on in an actual workplace and learn how to communicate better with colleagues while also managing time with professional projects
Mike – I expected to aid my directors and overseers with all efforts relating to marketing and membership such as helping with a campaign, I just wanted to do whatever they needed me to do to be the best intern
Randall – I didn't know much about philanthropy, so I was hoping to learn more about what it entails and what kind of work this industry does
Did it meet your expectations?
Caroline - I got to do everything on my list and even more such as communicate with many foundation leaders across the country.
Anshul - Yes, I was able to look at everything the team does and got a holistic view of what the team orchestrates such as helping to plan the HUD Awards which was cool.
Reilly – It did, and definitely exceeded them in learning about philanthropy.
Ashley – Yes, everyone communicates with each other openly with helping us (interns) out a lot with different things that're vague to us.
Mike – Yes, it was diverse in the opportunities it presented, database integrity, video content, helping develop a strategy for future, social media posts, and overall just a lot of different things. This internship provided me with experiences where I was able to learn a lot.
Randall – I think so, I'm a writer at heart and I got to write about things I would never even think about touching on. My other experiences included learning about what the Council on Foundations does specifically and how it helps its members.
Is there anything you wish you could have had more experience with?
Caroline - I wish I could have had a little more time engaging with fundraising and sponsorship side of the Council, I got to do it a little bit but it would've been nice to do more
Anshul - No, I think I got a good taste of what I wanted to, maybe I would've liked to go to Capitol Hill more, but I've already been a couple times so it's no big deal.
Reilly – I wish I would've been able to attend one of our events because so much goes into them and it would've been nice to see the final product.
Ashley – I wish I could have learned salesforce better and developed that a little more, because it's a really good skill to have.
Mike – I wish I could've used our database a little bit, but we were going through employee transitions and other things, so it was a little challenging at times.
Randall – Not off the top of my head, I got a good taste of just about everything the communications department does.
Has the work here at the Council inspired you?
Caroline - It's been very cool to see how the different types of foundation and different sizes in a whole range of projects and programs and understand how foundation collaborate with each other and build off the work that one another is doing
Anshul - I would say so, what I like specially with the GR team does is that we're making a tangible difference by doing little things, such as changes in the tax code. These little things go a long way.
Reilly – Some of it has, I feel good about having worked on, there's a lot that I would continue to work on if I was going to stay longer
Ashley – Yes, it's nice to see philanthropy in action and to see all the things that council does to help out it's members, and everyone works really hard
Mike – It showed you what different types of office environments can be like and that you don't have to do that a certain career path to get to where you want to go. The council is flexible, and it doesn't burden its employees with rough hours, so that showed me it's not all dark and dreary out in the work world
Randall – I think so, I think that everyone here is dedicated to representing the brand of the council and ensuring that they're able to help our members the best way they know how.
What was the most fun part of your internship?
Caroline - I really enjoyed the baseball game.
Anshul - Getting to interact with my (state team members) I got to know them really well and that was nice
Reilly – Whenever we did intern events (resume workshop, Nationals' game)
Ashley – The baseball game and being invited to the Public Welfare Foundation
Mike – Interview and resume workshop, because it was helpful and there were also funny stories shared
Randall – Definitely the resume workshop, I learned a lot and I'll be able to take basically everything that Kate pushed into that session with me into future job application/interviews.
What is (are) the biggest thing(s) you'll take away after this experience?
Caroline- It's been an honor to be trusted with big projects and responsible for being, looking forward to working at a job one day where I can collaborate with people on large scale projects
Anshul - I really think government relations is a field I can go into after college, now I know I like the work and it's a field I want to go into, I've done internships before, but this is the first one in an office environment, and overall professional office culture
Reilly – A better understanding of how I work best and how to work with people who's work styles differ from mine, also what philanthropy can and cannot do.
Ashley – Collaboration is extremely key when working because everyone brings different ideas to the table and finding a middle ground to create something great is what the Council does best.
Mike – The importance of making connections. The Council relies a lot on their ability to connect to people within foundations. This can also help with networking, how you meet people and get jobs, helped me realize what a full work week would look like
Randall – Probably office environment and protocol. I knew how to send emails of course, but not necessarily in a professional manner, so Janelle and Rebecca taught me a lot about that.
What is on your agenda next in life?
Caroline – I'm looking forward to starting my junior year and getting to take more in-depth courses that aren't general education. This internship has taught me a lot about career ambitions, I'm now able to take what I've learned and focus in on having more specific goals in my college education and when I enter the workforce upon graduating.
Anshul – Basically studying hard in school and gaining more experiences through internships at different places.  I'll also be enjoying the next two years because life is going to really start when I graduate so I'm going to use time to work on myself both professionally and personally.
Reilly – Finishing off my last year at school and then finding a job in philanthropy or nonprofit maybe even working at the council in the future.
Ashley – Finish last year at school and find a job in HR, I like Kate a lot and she seems passionate about what she does.
Mike – Junior year at GW, planning to do an internship, I'm looking forward to narrowing down what possible career paths I want to take and improving my skillset and overall having a good time.
Randall– I'm going into my junior year at Hampton which is like the beginning of the end for college. I'm really focusing on getting as much experience in the journalism world as possible, whether it be with blogs, news stations, newspapers or PR, I just want to learn. The more I know the more I'll grow and be able to apply knowledge to future jobs.