Corporate Philanthropy Update - September 2018
Friday, September 28, 2018 - 3:47 pm EDT
Over the past two weeks, the United Nations General Assembly has held its 73rdannual convening in New York City to discuss its agenda to solve global challenges by 2030 using the Sustainable Development Goals (SDGs).  Particularly for the corporate philanthropic community, this convening provides a platform to share the societal issues companies are focusing on and discuss the innovative approaches to addressing those challenges with global leaders.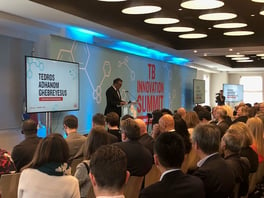 This year, I had an opportunity to support our members, Johnson & Johnson as they partnered with the United Nations Foundation, Stop TB Partnership, and the Global Fund to host a TB Innovation Summit. This summit not only highlighted the inequities of TB, and the 4000+ people who lose their lives to the disease daily, but it also brought together a team of global innovators to share people-centered solutions and tools to help eliminate the issue. Kellogg also hosted an event where they shared how their company is transforming food systems through use of the SDGs. Both companies provided a great demonstration of the creativity and intersectionality of business, philanthropy, and the SDGs.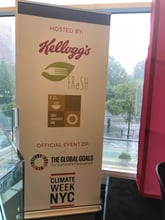 A few themes were consistent throughout the conversations I participated in during this annual convening. To accomplish the Sustainable Development Goals by 2030, we must establish a clear infrastructure charted towards progress, leverage the power of young consumers, and create cross-sector collaborations.  During one panel discussion, a person simply stated that philanthropy is all about civic engagement. And, I believe that statement sums up our work and the call to action by the United Nations General Assembly. I am grateful to have witnessed some of the nations' top companies and global brands come together to discuss this very act of civic engagement with public and private leaders. I hope that a new understanding of these shared goals will focus our attention on empowering people and creating a collective approach to making sure it is done well.
If you are interested in learning more about global philanthropy and/or strengthening your corporate grantmaking and not already a member, we hope you will consider joining the Council. We will be happy to share how to best leverage Council resources to support your strategy.
Best,
Lindsay Mason
Director, Corporate Philanthropy
703-879-0735
Lindsay.Mason@cof.org
---
WHERE IS LINDSAY?
As I wrap up my time in New York City for the UN General Assembly activities this week, I am heading to a few conferences over the next couple months. If you are attending any of the following events or happen to have availability in the cities listed below, please let me know. I'd love to find time to connect in person.
BBCON Tech Gathering for Social Good | Oct. 9-11th | Orlando, Florida
Milken Institute's Future of Health Summit | Oct. 23 -24 | Washington, DC
Council on Foundations' Corporate Advisory Board Meeting | Oct. 25th| Atlanta, GA
Southeastern Council of Foundation's Annual Meeting | Nov. 7-9th | Louisville, Kentucky
U.S. Chamber of Commerce Corporate Citizenship Conference | Nov. 14-15 | Washington, DC
CAREER PATHWAYS
APPLICATIONS DUE OCTOBER 15, 2018
The Council's premier leadership development program, Career Pathways, is accepting applications for our 2019 cohort. Today, 86 percent of Career Pathways' alumni are currently working at the senior executive level at philanthropic organizations across the world. Recent corporate-focused participants of the program came from the Intel, IBM, the Viking Global Foundation, U.S. Trust and more.
---
MIAMI, FLORIDA | APRIL 29-MAY 1, 2019
Are you planning to attend our 2019 Leading Together Conference in Miami next year, along with more than 1000 C-Suite leaders in philanthropy? Registration will be opening soon, and if you add your name to our Insiders List, you'll get priority registration and an additional $100 off.
---
2019 MEMBERSHIP DUES
Council members have received an update on the 2019 Dues Model. As many foundations begin budgeting for 2019, I wanted to make sure you were aware that:
For the third and final year, Council membership dues in 2019 will be determined by an average of assets and grants for 2010, 2011, and 2012. 
Early in 2020, the Council Board and staff, with input from current and former members and those who have never been members, will begin work on developing a new membership dues model. 
We are committed to making membership more inclusive and accessible, and to providing members benefits and services that strengthen your grantmaking and impact. And, I look forward to continuing to serve you in 2019! 
Global Goals: Innovative Approaches to Driving Impact at U.S. Companies (Archived)
September 19, 2018 | 2:00 p.m. ET
Can Corporate Giving Benefit Company Employees? Let's Find Out
October 24, 2018 | 12:00 p.m. ET

World Benchmarking Alliance Aims to Push Businesses to Do Good Through New Ranking System—A new alliance launched at the UN General Assembly has released a report ranking top global businesses on their progress with the Sustainable Development Goals via Devex
What Does a More Thoughtful Disaster Response Look Like?— Shares how corporations are working collaboratively to prepare for disaster relief and recovery over the long term via Fast Company
As Agencies Work Together, Future Looks Bright for Philly's Corporate Giving— Demonstrates corporate foundations' work to form public-private partnerships to advance opportunities in Philadelphia via The Philadelphia Inquirer
Drug Makers Give Billions to Fight Neglected Diseases Globally— Learn how corporate partners are making it possible for global-development nonprofits to fight disease via Chronicle of Philanthropy
2021-2025 Strategic Direction
Corporate Philanthropy
Corporate Philanthropy Updates