Community Foundation Update - November 2018
Friday, November 9, 2018 - 4:53 pm EST
Yesterday, my day began with a news alert of another mass shooting outside Los Angeles.  My mind quickly turned to the Ventura County Community Foundation,  about to be inundated with requests to provide support to their community after the 307th mass shooting in 311 days. Later in the day, I also assisted the Community Foundation of Chippewa County, working in a Wisconsin town of 13,000, on managing funds in response to a local hit and run, committed by a young man who has admitted to driving while huffing, that killed three Girls Scouts and a parent.
Underneath the dark and agonizing reality of what happened in these communities, I found the grace, humility, and commitment of our sector. The Council quickly provided connections to others who have dealt with similar situations. We linked the Conrad N. Hilton Foundation and Ventura County Community Foundation, both reeling from Thousand Oaks shooting, and Community Foundation of Chippewa County (WI) with colleagues at the Pittsburgh Foundation, Charlottesville Area Community Foundation, Central Florida Foundation, and Community Foundation of Anne Arundel County. Staff at each set aside their own tasks of the day to provide support for their peers, sharing in the difficulty of trying to adequately respond to community crises like these.
---

 "Last night's events are a tragedy.  We continue to pause when we see acts of such violence and recognize that the root causes for its persistence are complex and include lack of civility, hate, mental health problems, and irrational thinking that guns are a solution to interpersonal conflict and discord."

Thomas Brewer, the Ralph M. Parsons Foundation, Los Angeles, CA
Council's Career Pathways Alum 2010-2011

---
Preventing it from happening again.
What remains pivotal for us is not just supporting the victims, their families, and the broader community, but recognizing our obligation as funders to consider how to best direct funds to addressing the root causes impacting our communities. Whether by focusing on civility and hate, gun violence, illicit and dangerous drug use or supporting veterans facing mental health issues, there are roles we can play.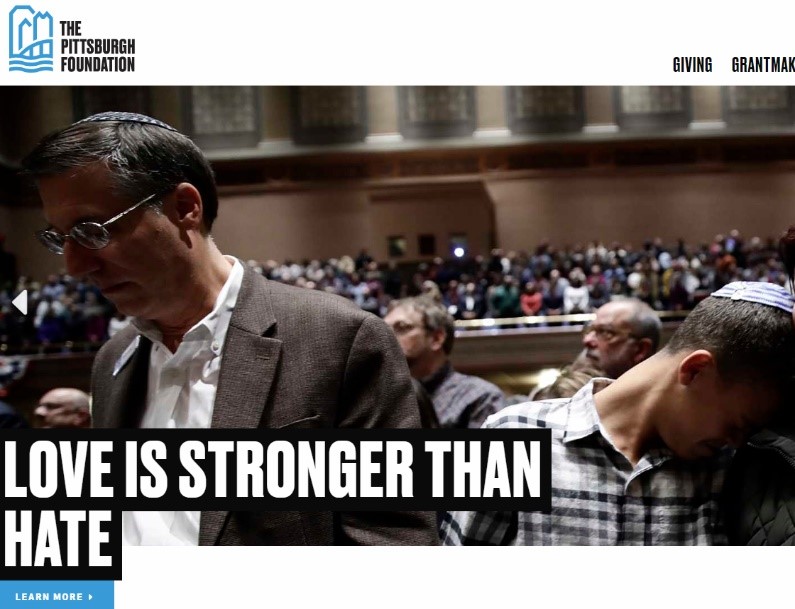 As the Pittsburgh Foundation said last week after their own tragedy, "Love is stronger than hate." Let's put the love of mankind, the root of philanthropy, to task. American communities need us now more than ever to remind them of the heart and soul that rests within our sector and work to bridge divides, invest in solutions, and improve the quality of life for all Americans.
Press on,
Brad Ward
Director, Community Philanthropy
Ph.: 703-879-0640
Brad.Ward@cof.org

CF EXECUTIVE ROUNDTABLES
Did you watch the livestream from our recent Community Foundation Executive Roundtable, hosted October 18th in Washington, DC?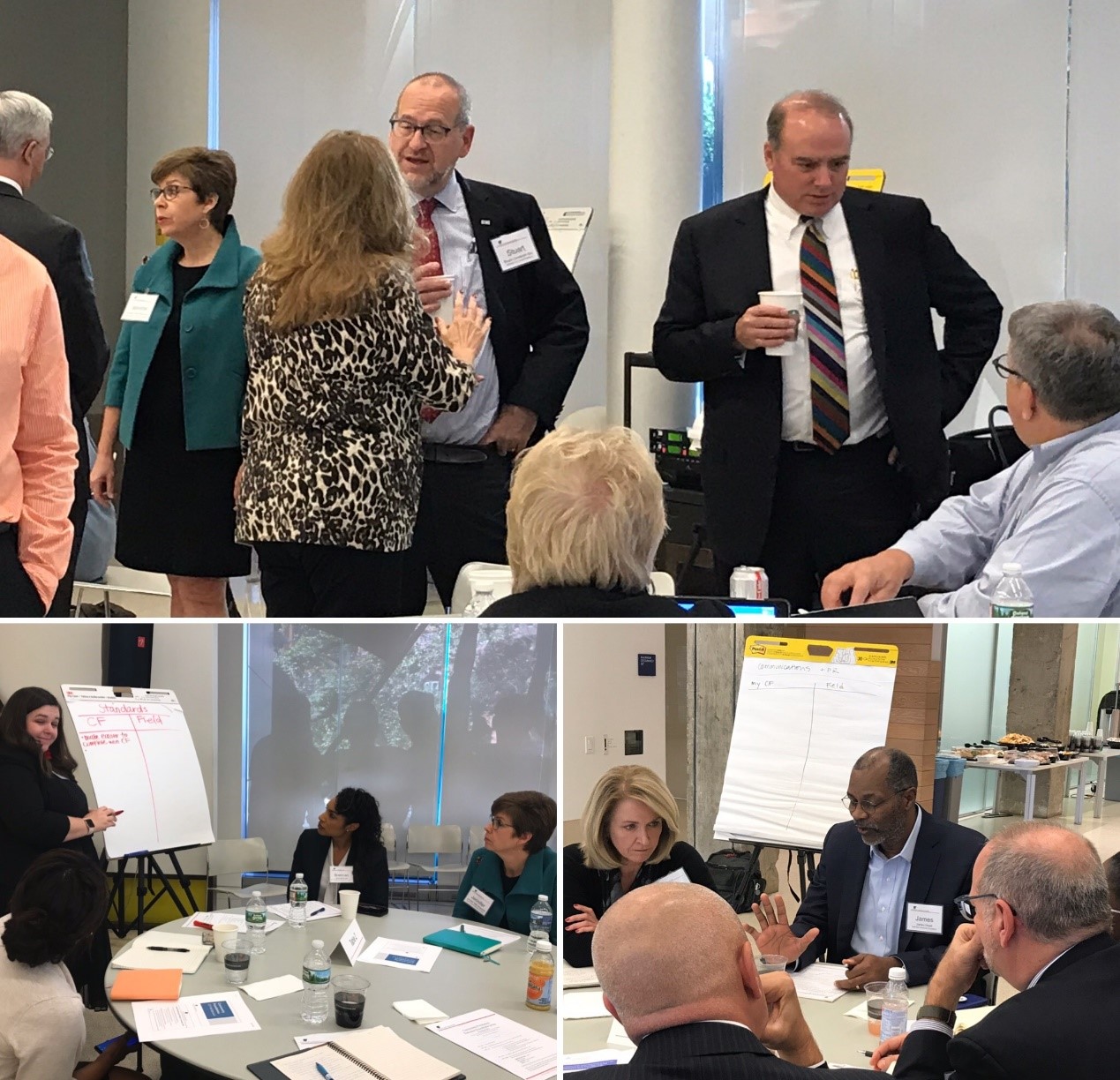 Critical conversations were had, such as discussing how to track and utilize metrics beyond asset-centric growth, the aspirational and evolving roles for community foundations as leaders, and our collective differentiators and common elements as a field. The day also included discussions on how we differ from other providers of donor advised funds (DAFs), particularly commercial fund providers like Fidelity, Vanguard, and others.
In the coming months, we invite you to join ongoing discussions that will help shape the future of how community foundations evolve and how we compete in the crowded landscape of providers supporting philanthropy from our communities. If you'd like to join us, please consider completing an interest form for one of our future CF Executives Roundtables in 2019, including one at the Leading Together 2019 conference.
---
#CFWEEK | Nov 12-18
Community Foundation Week (#CFWeek) is a prime opportunity to highlight the critical role of community philanthropy in supporting a thriving local community. Resources and webinars can be found on our #CFWeek Resource Page.
$100 Discount off Leading Together 2019 Conference during #CFWeek
As part of the Council's celebration of #CFWeek, we are giving community foundation staff and board members a $100 discount on their Leading Together 2019 conference registration. The conference will be held in Miami from April 29 to May 1, 2019.
This limited time offer is in addition to the early bird and group pricing — making it the lowest price you can pay to attend our 2019 national conference.
Use code: LT19CFWEEK at check out.
Offer is valid today through midnight Saturday, November 17, 2018.
---
Articles and Resources

Council Member Meeting and Awards Ceremony
Washington, DC | Wednesday, Nov. 28, 2018 | 3:00 pm - 7:00 pm ET
The Council on Foundations Awards Program is hosting our first-ever stand-alone program celebrating philanthropic leaders at the National Museum of Women in the Arts on November 28, 2018. We will celebrate four distinct award winners, recognizing a diversity of excellence in philanthropy. The event will include a Council member meeting and the Awards ceremony, with a speech from Stephen Heintz, the 2018 Distinguished Service Award winner and president of the Rockefeller Brothers Foundation, on the state of philanthropy. It will be followed by a networking reception.
The Council on Foundations and National League of Cities, with support from the Lumina Foundation, will bring together philanthropic and government leaders in Louisville, KY, this January to raise awareness about the social impact of structural racism while highlighting current efforts to dissolve and resolve racial conflict and disparity. This is the third in our series of three events on the topic.

California College Pathways: A Case Study On How Strategic Philanthropy Leads To Systematic Change Thursday, November 15, 12:30 pm – 2:00pm ET
Don't Be Caught Off-Guard This Tax Season: A Guide For Navigating The New UBIT Rules Tuesday, November 20, 2:00pm –3:00pm ET
Spurring Opportunity: Entrepreneurship and Community Foundation Tuesday, November 27, 2:00pm-3:00pm ET
Show Me the Money: Fundraising Tips for Community Foundations in the New Political Landscape Thursday, December 13, 1:00pm—3:00pm ET
Archive—Free to our Members
Words Matter: Getting Your Communications Right for #CFWeek
Opportunity Zones: Can Foundations Help Communities Get Ready?
Community Philanthropy Updates