Community Philanthropy Update—December 2018
Friday, December 14, 2018 - 3:40 pm EST
With the giving season in full swing, I was inspired to see community foundations embrace the global #GivingTuesday movement. This included Council member La Cross Community Foundation in Wisconsin, which surprised 15 nonprofits in person with grant checks totaling $18,000 on #GivingTuesday. A clever means of inspiring and uplifting the spirit of giving in their community.
Equally inspiring were the examples of entrepreneurial thinking displayed by Central Florida Foundation and The Oregon Community Foundation during our virtual learning session, Spurring Opportunity: Entrepreneurship and Community Foundations.  
As Mark Brewer, CEO of Central Florida Foundation said, "More than ever, we need ideas. Ideas that do more than sustain a business model – they solve a real societal problem or empower a community to improve their quality of life."  
Earlier this year, the Council, in partnership with the U.S. Department of Housing and Urban Development, recognized the Greater Cedar Rapids Community Foundation as a winner of the Secretary's Award for Public-Philanthropic Partnerships. This award recognizes partnerships that have transformed communities through collaborations between foundations and government entities. Applications for 2019 are now open, with nominations due by January 14th. I'm confident many of you have exemplary partnerships with local governments and deserve to be recognized, so I hope you will submit an application and profile your work nationally. Learn more about the 2019 award and how your foundation can apply.
There is so much good happening across the community foundation spectrum—it is hard not to be optimistic for what 2019 can bring when I see what community philanthropy inspires. From all of us at the Council on Foundations, we wish you the very best in your giving seasons and a prosperous new year— we look forward to what is to come.
Brad Ward
Director, Community Philanthropy
Ph.: 703-879-0640
Brad.Ward@cof.org
---
Where to Find Brad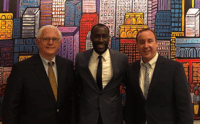 During Council member visits in Southern California, I was joined by Gene Cochrane, Interim President and CEO, and Peter Gordon, Associate Director of Government Relations. We snapped this photo on the campus of California Community Foundation.
This December, I've been in DC to coordinate our 2019 programmatic offerings for community foundations. Currently, there are 15 in-person community foundation activities slated for 2019, which includes Community Foundation Excellence courses, Legal Matters workshops, the Leading Together 2019 Conference, virtual learnings, and Community Foundation Executive Roundtables (check out the Livestream from our first roundtable). 
In January, meetings and member visits will take me to San Francisco, CA, as well as the Racial Equity Forum in Louisville (Jan 14), before I join our legal counsel, Suzanne Friday, at the Legal Matters in Phoenix (Feb 12). If you are in any of these areas and able to carve out time for an in-person visit to discuss the Council or community philanthropy, please let me know.
---
Legal Matters for Community Foundations Workshops
Our first workshop in 2019 will be hosted at the Arizona Community Foundation in Phoenix on Tuesday, February 12th. Join us in Phoenix – Registration Now Open  
Additional host sites include the community foundations in:
---
Member Spotlights
Council Board Chair and President and CEO of Miami Foundation, Javier Alberto Soto, was the featured guest in the new episode of The #ENGAGE Podcast from Blackbaud: Episode 74: Increasing Civic Engagement Through Philanthropy.

Community Foundations Opportunity Gap Network in Action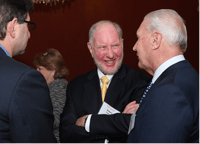 Prof. Robert D. Putnam (center) during the Delaware Community Foundation's Leadership Lectures Series.
Robert Putnam spoke at the Council on Foundations conference in 2015, leading to a broad range of inspiring programs among community foundations. His speeches have inspired broad movements within the field, from the creation of the Community Foundation Opportunity Network to individualized efforts at Delaware Community Foundation.
Thanks to CEO, Stuart Comstock-Gay, and his staff in Delaware for sharing their creative strategy of convening community members and creating connections to join efforts to reduce the opportunity gap among today's society.
Forum on Child Poverty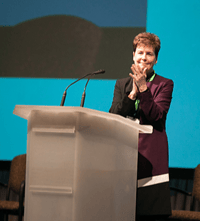 Southwest Initiative Foundation's President and CEO Diane Anderson and Chair, National Standards for U.S. Community Foundations, delivers remarks at their summit.
I see similar initiative in Minnesota, where the Southwest Initiative Foundation hosted a forum on child poverty. More than 400 people attended the Grow Our Own Summit discussing economic development, philanthropy, and social support—all essential tools in the fight against youth poverty. 
Congratulations to Southwest Initiative Foundation staff and President and CEO, Diane Anderson, who also serves as Chair of National Standards for U.S. Community Foundations, on their successful summit and courage to tackle the issue.

Racial Equity Forum: Philanthropy and Government
Louisville, KY | Monday, Jan. 14, 2019 | 9:00 AM – 11:30 AM ET
Legal Matters for Community Foundations Workshop
Phoenix, AZ | Tuesday, February 12, 2019
Community Foundation Excellence (CFE) Fundamentals Course
Phoenix, AZ | Tuesday, February 12, 2019
Leading Together 2019
Miami, FL | April 28 -29

This week's webinars—Free to members
Additional archives—Free to members
Community Philanthropy Updates