Community Philanthropy Update—June 2019
Friday, June 14, 2019 - 2:30 pm EDT
A recent op-ed by Marin Community Foundation's CEO, Dr. Thomas Peters, moved me to reflect on our field. Dr. Peters paints a powerful picture describing how community philanthropy can strengthen communities and support individuals, in a way that helps others relate to our work. With an opening line, "Let's face it, philanthropy's been in the doghouse," he offers a fresh and grounded perspective on how we can better communicate our work.
I was reminded of the need to improve our storytelling while at the recent Community Foundation Opportunity Network (CFON) Forum hosted by the Tulsa Community Foundation. This network was started in 2015 by community foundations in Chicago, Atlanta, Seattle, Omaha, Arizona, Hartford, Duluth, and New Hampshire. Together, they work to build on the power of Robert Putnam's research and book, Our Kids: The American Dream in Crisis. This network supports community foundations in their work to ensure all young people in their local communities, regardless of place, race, identity, or income, have access to opportunities that set them up for success.
Let me temper your notion that these are wishful thinkers sitting around the table discussing the problem. No, these are 48 community foundations, in 31 states, who are serious doers and action-oriented creators for a better tomorrow. These community foundations are focused on otherwise overlooked families and children in poverty, whose opportunities to achieve the American Dream are dwindling.
To summarize from CFON, the chances of young Americans doing better than their parents has declined 40 percent since the 1960s. Evidence continues to show that today, in America: if you are born poor, statistically, it is highly likely you will die poor. And for children of color, the chances of escaping poverty are even lower.
Community foundations are trusted partners with donors in their communities, with an enduring track record of integrity, innovation, and impact spanning more than 100 years. We can bring together donors, nonprofit partners, business and civic leaders to deliver a new set of outcomes for future generations. We can bridge the public and private sector for a deeper, more focused impact and mobilize capital to create better outcomes and opportunities for all.
Wealth inequality and declining social mobility are the defining challenges of our day. Community foundations, to remain vibrant and relevant, must adapt how we work to influence, create, and mobilize seeds for change. Because as Thomas Peters said in his op-ed, "It's not the dollar total that is paramount. Rather, it's the stories of beneficial impact, assistance, encouragement and inspiration that on a daily basis depict stronger and more viable communities across the Bay Area, California and the country." I see community foundations doing important work across the country and urge us all to keep fighting to help communities and families achieve the American dream.
Sincerely,
Brad Ward
Director, Community Philanthropy
Phone: 202-991-7612
Brad.Ward@cof.org
P.S. In last month's (May) community update, we discussed Admin Fees and more. Curious about previous newsletters? Find all monthly updates at at cof.org/topic/community-foundation-updates.
---
Where's Brad?
June 13-14 and Jun 17-19, Member visits and Executive Roundtable at Seattle Foundation
June 20-21, Washington D.C. for staff planning meetings
June 26-27, Charleston, SC CFE Fundamentals with Southeastern Council on Foundations
Jul 8-9, San Diego and Los Angeles with CFE Fundamentals at California Community Foundation

Help Reimagine the Council
On Wednesday, Kathleen Enright, our President & CEO, sent a request to help us reimagine our vision and value to the field. We're committed to listening and learning from our members, nonmembers and partners on your vision for the Council and how we can best support a strong, resilient and effective philanthropic field. Kathleen will be holding several in-person and virtual convenings throughout the summer. You can also sign-up for a 15-minute phone call with her or send your comments to kathleenlistens@cof.org. To learn more and sign up for an event, visit cof.org/reimagine.
---
Member Spotlight
2019 Community Foundation HUD Award Winners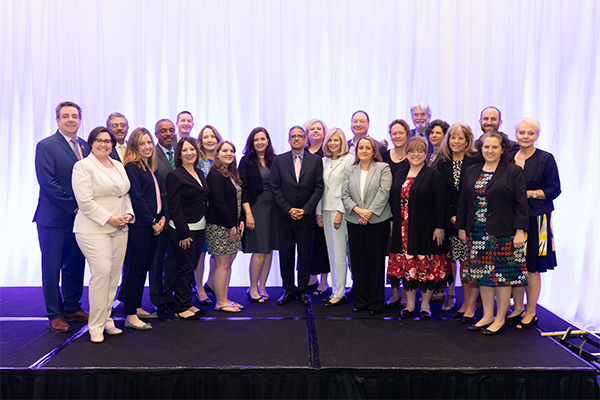 Each year HUD's International and Philanthropic Affairs Division partners with the Council on Foundations to host the Secretary's Awards for Public-Philanthropic Partnerships. These awards celebrate innovative and effective cross-sector partnerships between philanthropic and public organizations. This year, several community foundations received the award. Click the links to learn about their winning projects:
---
Severe Weather and Disaster Philanthropy
As summer begins, communities across the US prepare for severe weather —from tornados to hurricanes, wildfires and flooding. In recent years, the US has experienced some of the mostly costly natural disasters ever on record. As your foundation considers if, or how, you might help communities respond to disaster, here are a few resources we regularly share with Council members:
---
Webinar for Flood Disasters
We co-sponsored a webinar with the Center for Disaster Philanthropy and several peer philanthropy networks to support communities impacted by flooding.

Research and Reports
Preparing Foundations for A More Turbulent Future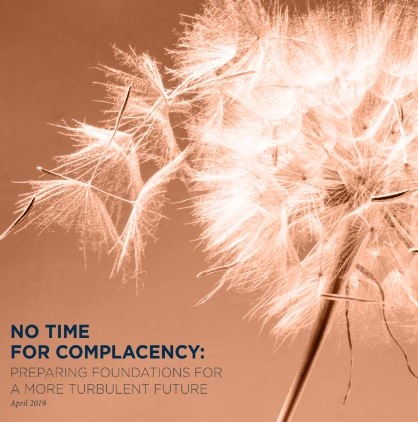 Leading a community foundation in today's philanthropic world is increasingly turbulent as the digital, social, political, and economic forces of change become less predictable. The study, No Time for Complacency, examines the ability of foundations to detect and respond to early signal of threats and opportunities and provides direction on how foundations can become more "vigilant" organizations that see sooner and act faster in an increasingly complex and volatile world.
In search of staff salaries and benefits benchmarking?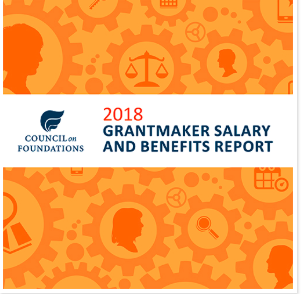 The Council on Foundations' annual GSB Survey provides grantmakers the most comprehensive data on foundation staff salary and board compensation. Check out Benchmark Central, the Council's online benchmarking tool to run deeper salary, benefits, and demographics comparisons of existing data and reports from 2018.
Participate in the 2019 Survey by June 28th to receive the latest, most comprehensive results from the 2019 Grantmaker Salary and Benefits (GSB) to be released in October.
---
Newsworthy
DAF Lawsuit could cool fastest growing way to give to charities via New York Times *Includes comments from Council member, New York Community Trust
Amazon Donates $3 Million for Affordable Housing to Arlington Community Foundation via The Washington Post
Legacies can make your community a better place to live, via Legacy Café Podcast *Conversation with Brad Ward on community foundations
How Salesforce And The Pledge 1% Model Is Inspiring Silicon Valley To Do Good via Forbes *Perspective within the sector and corporate donors
Community Philanthropy Updates