Global Philanthropy Update - January 2020
Tuesday, January 28, 2020 - 4:30 pm
Happy 2020! January has kicked off with a bang as we've been hard at work at the Council to develop exciting programs, publications, and avenues for engagement in 2020 and beyond. I'm excited to share more about the work of our global program as the year progresses and I look forward to continuing to get to know many of you.
Earlier this month, we launched a new report titled "Global Family Philanthropy: Exploring Key Considerations for Giving Across Borders". This new resource, produced in partnership with Give2Asia and BNY Mellon, has been a personal project of mine and I'm eager to share it with everyone. It's been a pleasure to work alongside Birger Stamperdahl, President and CEO of Give2Asia, and Joan Crain, Global Family Wealth Strategist at BNY Mellon to produce a new and valuable contribution to the growing field of global family philanthropy research. I hope you will download the report and register for an upcoming webinar about the paper. I also encourage you to provide feedback to me on the paper and I welcome your thoughts on the subject.
Given this focus on family philanthropy, I want to also lift up some recent reports that have been produced by our friends in the field. Two that stand out are the National Center for Family Philanthropy's "Trends 2020" survey and Rockefeller Philanthropy Advisors' "Global Trends and Strategic Time Horizons in Family Philanthropy 2020". It's exciting to see so much great research being produced about how families conduct their philanthropy around the world.
Thank you for being a part of our community. The best is yet to come, but I can assure you, 2020 won't be boring!
All the best,
Brian Kastner
Manager, Global Philanthropy
Phone: 202-991-0953
brian.kastner@cof.org
---

New Resource
This paper by the Council on Foundations, BNY Mellon, and Give2Asia explores the opportunities and challenges that face global families as they seek to conduct cross-border philanthropy. From coordinating family strategy to navigating complex tax regimes, global family philanthropy is not a simple feat.
However, due to generational change and technological advancements, it's becoming far more common. This paper equips global families with key considerations and offers recommendations on how to proceed with global family philanthropy in an effective manner.
Interested in learning more? Register for a free webinar about the paper, taking place on February 26 from 2:00-3:00pm.
---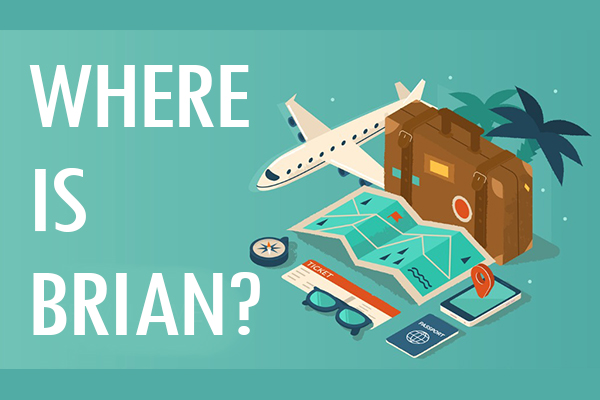 I look forward to meeting more of you in 2020 and learning how I can best support your work. Here is where I will be in the next few months. Please feel free to reach out in advance if you'd like to connect!
CFUnited Conference | Power of Place
April 5-7, 2020
Detroit, Michigan
European Foundation Centre Conference
May 20-22, 2020
Vienna, Austria
---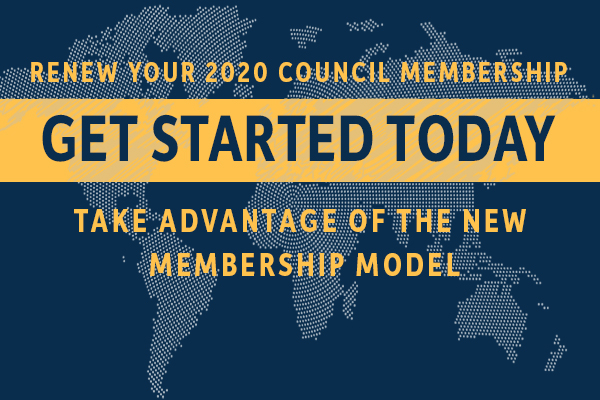 Have You Renewed Your Council Membership?
We want to send a warm Council welcome to organizations who joined the Council since we launched our new approach to membership last September. To date, we have welcomed 789 members, including many new and returning members.  We look forward to partnering with each to advance their missions and encourage you to learn more about their work.
We are excited to celebrate another year of collaboration, convenings, learning opportunities and partnerships.
If you have not secured your membership renewal, please contact membership@cof.org, or give us a call at (202) 991-2225.

China Drama Continues, With Devastating Consequences for Funders
I don't like to be alarmist, but sometimes there's cause for alarm.
U.S.-China relations continue to be a major headline in 2020, as the two countries signed "phase 1" of a new trade deal recently. In December, Beijing sanctioned multiple donor institutions, including the National Endowment for Democracy and Freedom House, for their "odious behavior" in Hong Kong. This sanctioning, experts mostly agree, is China's response to the U.S. House of Representatives passing the "Hong Kong Human Rights and Democracy Act" in October 2019. In more dire news, Chinese officials have announced that for the first time, a U.S.-based NGO was investigated and punished for violating the Overseas NGO Law. This incident, taken alongside the recent sanctioning of the prominent institutions named above, shows that the situation for funders in China may only worsen, despite progress in trade negotiations.
Many experts have noted, off the record, that China continues to question its citizens who visit Hong Kong and Taiwan, who participate in potentially activist meetings, who attend events that may attract government attention, or who communicate with known activists. It's also a good time to remind ourselves that two Canadian nationals, one a former diplomat and employee at International Crisis Group, remain in Chinese detention under charges of espionage as retaliation for Canada's arrest of Meng Wanzhou, CFO of Huawei, where she is facing an extradition hearing that could send her to the U.S. to face charges of fraud and violating American sanctions against Iran.
Given these recent events, we urge caution for any organizations with representative offices in China or any organizations filing temporary activities. We also encourage everyone to consider the safety of any staff they have in the region at this time.
---
Counterterrorism and Sanctions
Some great pieces about the continued impact of counterterrorism efforts on nonprofit activity have been released since my last update. The New Humanitarian's "2019 in Review: Counter-terror compliance holding back relief" and the International Peace Institute's "Making Sanctions Smarter: Safeguarding Humanitarian Action" are both worth a read. I also recommend OpenGlobalRights' piece about how counterterrorism laws are a "smokescreen" for civil society restrictions.
---
Foreign Corrupt Practices Act in 2019
Steptoe has released a summary of all FCPA violations by individuals and corporations in 2019. If you keep up with FCPA, you'll know that 2019 was a banner year for enforcement, resulting in $2.9 billion in fines. Additionally, the UK Serious Fraud Office has released new guidance about how it evaluates corporate compliance.
---
Global Fragility Act Becomes Law
In more inspiring news, the GFA became law in December 2019 and establishes "the first-ever comprehensive government approach to preventing global violence and instability".
---
The Philippines Securities and Exchange Commission Targets Nonprofits and Foundations
In January, the SEC in the Philippines released guidelines specifically for foundations and other nonprofit organizations registered with the Filipino SEC, encouraging them to adopt financial and oversight controls and ensure proper due diligence is conducted.
---
Three Republican Senators Invoke FARA
Mike Braun (R-IN), Ted Cruz (R-TX), and Tom Cotton (R-AR) have sent a letter to Attorney General William Barr, asking the DOJ to investigate the National Iranian American Council under the Foreign Agent Registration Act. NIAC generally supports Iranian Americans and was active in advocating for the Iran Nuclear Deal and receives funding from American foundations. NIAC has since released a statement.

Step In & Step Up: Providing Support in Time of Disaster 
The Council on Foundations is sponsoring an upcoming webinar from the Center for Disaster Philanthropy titled "Complex Humanitarian Emergencies: Philanthropy's Role in Recovery", focusing on lessons learned from Venezuela and Yemen.
In partnership with the Australian Community Philanthropy and their network for community foundations and Fundación Communitaria de Puerto Rico, the only U.S. based community foundation in Puerto Rico, the Council is apprised of relief and recovery efforts underway in the Australian wildfires and Puerto Rican earthquakes that are devastating these communities. Here is how your foundation can help.
---
How to Direct support to Australia
Direct giving to

Australian community foundations

can be made through international grants for impact in a specific location within the country. Contact me or legal resources at the Council for administering international grants.
---
How to direct support to Puerto Rico
---
Coronavirus spreads within China
A deadly new virus has been spreading throughout China with more than 1,000 cases reported. The World Health Organization has declined to declare the outbreak an international public health emergency. There are so far multiple in the U.S with Chinese travel restrictions in place covering millions of people.
Council member Give2Aisa has created a campaign to support first responders in China.
---
Russian Cabinet Resigns as Putin Proposes Constitutional Overhaul
The Russian cabinet resigned in early January as President Putin proposed sweeping changes to the Russian constitution. In what is seen as a bid remove the cap of his tenure beyond 2024, Putin is proposing limits to the powers of the presidency. It's unclear how this will proceed, but it's likely that Putin will stay a fixture of Russian politics for the next decade.
---
Brazil Charges Journalist with Cybercrimes
Glenn Greenwald is being accused of hacking into cellphones of Brazilian officials. Greenwald, who helped reported the Snowden allegations, has been a vocal critic of President Bolsonaro. The Committee to Protect Journalists has decried the charges as "a chilling message to reporters".
---
West African Leaders Urge United States to Fight Terrorism
As the fight against the Islamic State and Al-Qaeda raged in the Middle East, the groups developed strong roots in the Sahel. The presidents of Senegal and Togo have urged the U.S. to remain in the area to assist French and various African countries to continue counterterrorism activities in the region. This is likely to get worse before it gets better.
International Giving
Global Philanthropy Updates