Global Philanthropy Update - March 2021
Tuesday, March 30, 2021 - 5:42 pm
Dear Friend, 
It is difficult to capture the enormity of the challenges we have faced during the past year.
Global grantmakers were some of the first to recognize the looming danger of the novel coronavirus and urged the world to respond. As vaccines begin to ramp up in the US, funders continue to embrace flexibility with nonprofit partners globally and call for increased global giving, as experts declare that the virus will only ever be gone when it is gone from every country. Amidst the pandemic, global grantmakers have provided necessary and immediate support to a multitude of causes and organizations, while also embracing equity, shifting and sharing power, and cultivating trust in their relationships.
At the upcoming Leading Together 2021 Conference, we will dive into some of these key themes. Our Global Grantmaking Preconference, Grappling with Global Threats from Within and Without, will look at threats facing civil society across the globe, from restrictive laws to rising authoritarianism and the stifling of protests and movements. It will include conversations that interrogate the norms and processes in global grantmaking that have led to increased calls for localization and decolonization of the international development ecosystem.
I hope you will join us for both the Preconference and the rest of Leading Together 2021, and I welcome your thoughts, questions, or comments.
All the best,
Brian Kastner
Lead Strategist, Global Philanthropy

Register for Leading Together 2021 and the Global Grantmaking Preconference
Registration for Leading Together 2021 is now open! A virtual experience for 2021, Leading Together is the destination to engage in transformative conversations about philanthropy's role in creating a better world and earning the trust necessary to create real change. Scheduled June 14-June 17, 2021, the Council will bring together foundation and philanthropic leaders to connect on critical issues concerning the sector.
The conference will feature sessions you won't find anywhere else with a focus on Seeking Common Ground, Advancing Equity, and Raising the Bar.
We also encourage you to register for Grappling with Global Threats from Within and Without, the preconference session created specifically for international funders to dialogue about the communities they support, the challenges they face, and how foundations can work more effectively across borders.
Interested in sponsorship opportunities for Leading Together 2021?
Download our sponsorship menu or contact Tara Cox.
Webinar: Granting to India: How to Best Support Indian Non-Profits
With the recent FCRA amendments passed late in 2020, foundations working in, or granting to, India continue to face challenges to their work. While Indian nonprofits struggle to navigate the new regulations and register new bank accounts with the State Bank of India, their foreign funders have also been working hard to understand what new realities they face and what new challenges might be on the horizon.
Join the Council on Foundations, the International Center for Not-for-profit Law (ICNL), and the Centre for Social Impact and Philanthropy at Ashoka University to hear what Indian nonprofits need from foundations and how they think philanthropy can best respond to this ever-changing environment.
---
REGULATORY UPDATES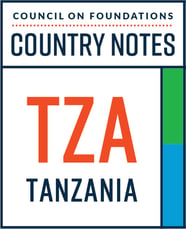 We've added a new chapter to our library of global grantmaking resources. For those interested in giving to Tanzania, explore our comprehensive list of resources and guidelines around nonprofit law in that country. 
JOIN THE GLOBAL GRANTMAKING PHILANTHROPY EXCHANGE
This new member community on the Council's Philanthropy Exchange is made just for you, global grantmakers and leaders in philanthropy across the world. It's as simple as joining the community, signing up for alerts, and starting conversations with your peers about any topic related to global philanthropy. Note: The Philanthropy Exchange is a member-only benefit. Contact Tucker Rush, [email protected], with any questions!
WEBINAR: ONE YEAR LATER: HOW HAS COVID-19 RESHAPED PHILANTHROPY?
Philanthropy has responded to COVID-19 like no other crisis in recent memory. Through increased giving, reduced restrictions, and a deeper focus on listening to communities and partners, foundations, many of whom signed the Pledge, have stepped up in this moment of crisis. Now, a year later, questions arise as to which of these practices will become the "new normal," while many still ask what more can be done. Join us on March 31 to hear from a range of speakers from different philanthropic organizations about how COVID-19 has reshaped their work and what they think the future entails for philanthropy.
---
RESOURCES
Fostering Equitable North-South Civil Society Partnerships – RINGO Project
The report presents the views and voices of global south CSOs and provides records of ideas, suggestions, and recommendations on how NGO north-south relationships and power dynamics should evolve. It captures the concerns of global south civil society actors and their relationship with INGOs in four key areas: partnerships, collaborations, structures and practices, and decision making.
The Global Response to the COVID-19 Pandemic – Charities Aid Foundation (CAF)
Read about how COVID-19 has affected civil society across the world and how the CAF Global Alliance has responded. 
Philanthropy and COVID-19: Measuring One Year of Giving – Candid and Center for Disaster Philanthropy
Philanthropy stepped up in unprecedented ways to respond to COVID-19, but how much was actually given and to whom? This analysis shows how foundations of all shapes and sizes gave more and reduced restrictions on their funding, but to varying extents.
Where Are the Global COVID-19 Resources for LGBTI Communities? - Global Philanthropy Project
LGBTI individuals and organizations are often not a top priority for many funders. This report examines how that funding has been impacted by COVID-19 as of September 2020.

International Giving
Global Philanthropy Updates