Engaging Latino Parents around Early Learning for their Children
Thursday, April 24, 2014 - 11:23 am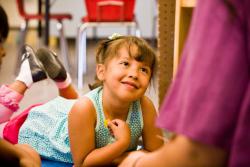 The proudest moment of Ruben Garcia's life was when he watched his first child graduate from Boulder High School last spring.
The father of three and his wife know how much it took for their son to reach the important milestone. They will tell you that their work with him started before preschool.
Ruben's story is all too rare in Boulder County, Colorado, which has one of the state's widest achievement gaps between children growing up in low-income households and their peers.

This post is part of the #CF100 Series of blog posts. The Council on Foundations is marking the 100th anniversary of the nation's first community foundation, The Cleveland Foundation, by highlighting the roles of community foundations with this series.
The Community Foundation Serving Boulder County has been engaging our community on closing the achievement gap through school readiness since 2008. We have run awareness campaigns, financed and led campaigns on four education funding measures, and made this work a major focus of our TRENDS Report on the social and economic health of our county.
Last fall we produced a short video about the Garcia family. It helped thought leaders and donors in our area see the achievement gap issue more clearly. It reminded us that our collective work should focus on working with Latino parents to build the knowledge, skills and advocacy they need to be their child's first and best teacher. And it helped lead us into our current endeavor of hiring community coordinators to work with Latino parents and build their voice in these important ways.
This achievement gap is closing, slowly. Our county's overall 3rd grade reading proficiency rate has increased from 80% to 82.5% over the past 3 years. That's almost entirely due to large early gains by Latino students. We convened a cross-sector consortium of leaders last year, which set a county-wide goal that 90% of 3rd graders would read at grade-level by 2016.
But even this consortium missed the mark somewhat, because it was almost entirely composed of Anglo leaders from the voluntary and government sectors. So we convened a series of Latino Parent Forums last fall, drawing 180 parents and collecting valuable input into the sorts of strategies that would most effectively help us all achieve our ambitious community goal.
Last month, we hosted another round of Latino Parent Engagement Forums in each of our county's three major population areas. This time we invited leaders of organizations that serve Latino parents. We asked them how to better engage Latino parents around early learning.
Five big ideas emerged:
Recruit Community Coordinators in each city to help do this work, and compensate them for it.
Build an Authentic Early Learning Awareness Campaign for and by Latino Parents.
Build Latino Parent Leadership and Advocacy on Early Learning.
Promote Latino Parent Skill Building.
Raise Funding to Help Sustain these Activities.
We will take the lead acting on these ideas in the coming months, starting with the recruitment of up to four community coordinators. You can read more about this plan and listen to a recent community radio interview about Latino Parent Engagement, at my blog.
Chris Barge is Director of the School Readiness Initiative at The Community Foundation Serving Boulder County.
Community Foundations Centennial
Diversity, Equity, and Inclusion
Embracing Better Ways of Operating
Partnerships and Collaborations
Strengthening Communities