Innovate for Good with Rose Community Foundation
Tuesday, April 12, 2016 - 8:00 am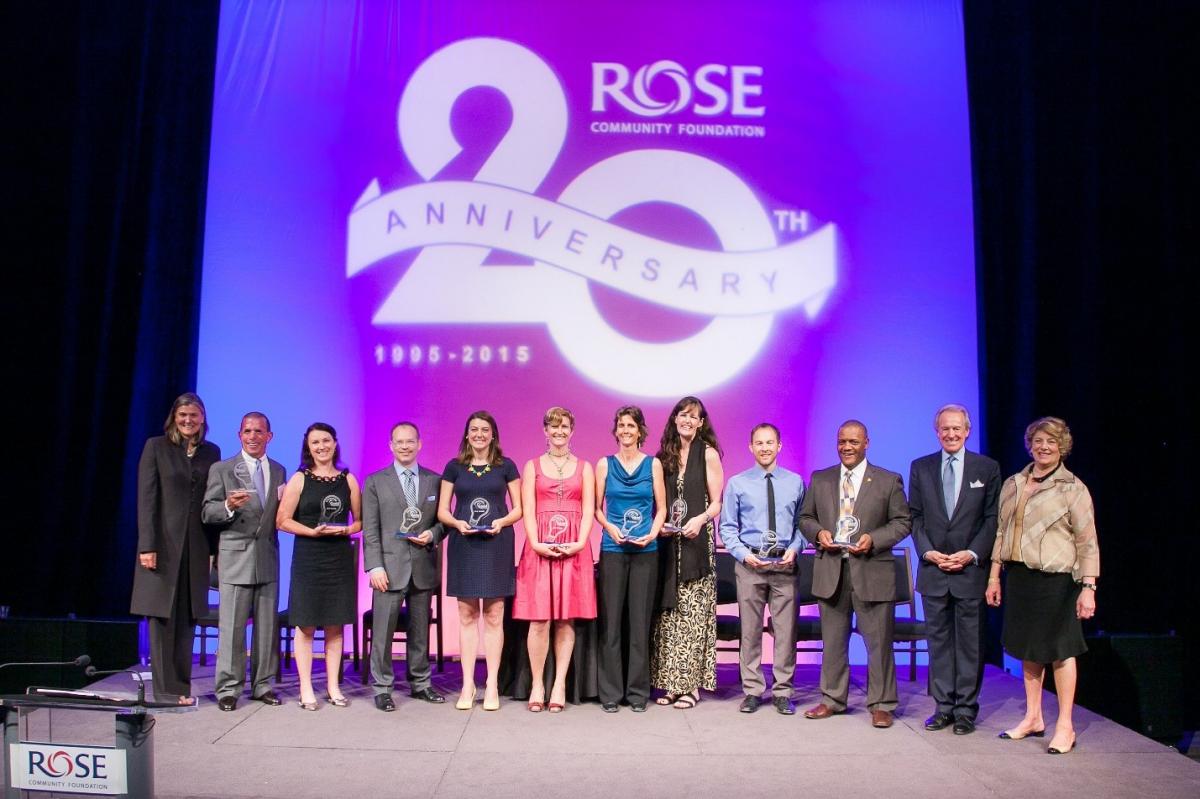 Last year, Rose Community Foundation created Innovate for Good, a venture to find and fund new, innovative projects to make the Greater Denver community a better place to live.
The idea came largely from the Foundation's Board of Trustees which expressed a desire to engage our community and reach new audiences in new ways. The project built on the Foundation's longstanding commitment to enhancing the quality of life in our community and to investing in innovation. Foundation staff was charged with developing a model for the project and making it happen.
We reached out to others in the field who had done "prize philanthropy" work and we found that a number of other community foundations around the country were happy to share their experiences of launching community engagement and innovation projects. Community Foundation of the Great River Bend, Community Foundation of Greater Memphis and The Denver Foundation were especially helpful.
Innovate for Good launched in January 2015 and received nearly 400 entries from local nonprofits, engineers, artists, neighborhood associations, teenagers, retirees and others, who answered the question, "What new and innovative idea would you bring to life to make the Greater Denver community a better place to live?"
We created specific criteria for submissions that allowed the challenge to be both creative and structured and encourage a productive outcome. We asked for projects that were:
New and innovative
Ready to make a difference in the community within one year
Feasible
Consistent with Rose Community Foundation's mission
This openness to a broad range of applicants and ideas was just one way the Foundation worked to engage the community. Many applicants were new to Rose Community Foundation.
A team of 130 community members were recruited to review and rate applicants' ideas. A smaller group of Foundation staff and lay leaders guided the Innovate for Good project and served as judges of the finalists' implementation plans. Attendees of Rose Community Foundation's 20th Anniversary event had the chance to hear pitches from three winners vying for an additional grant prize and vote for the winner. Community members were included throughout the entire Innovate for Good decision-making process.
This work was promoted to a broad audience in the Greater Denver community. Using a combination of email marketing and traditional and earned media, we reached mediums like Colorado Public Radio, Confluence Denver, the Denver Post and Westword. Traditionalpublic relations led to local morning television news programming as well as some radio interviews.
The submitting organizations were of all shapes and sizes, from well-established and well-known community organizations to grassroots neighborhood-based organizations. Nearly all of the proposals are collaborative in some way, and include work in partnership with other nonprofits, educational institutions, advocacy organizations and government entities. Many of the projects were about building and extending community identity, either in one geographic neighborhood, or between neighborhoods and community groups. And a number of the projects propose ways to use new technologies or mobile services to deliver resources to specific neighborhoods where they are scarce.
The 2015 winners included:
Bright by Text, Bright by Three's educational text-messaging system that will expand to provide parents with localized community resources and information.
Clean River Design Challenge, The Greenway Foundation's design competition for Metro State students to create a mechanism to remove trash from the South Platte River.
Creative Youth Take Flight – La Alma Connection, Arts Street's program for youth to createa master art plan and public art series to encourage pedestrian use of the light rail and 10th Avenue in the La Alma neighborhood.
Fresh Food Connect, Groundwork Denver's new app to allow home gardeners to donate extra produce for distribution at food banks and through affordable sale.
Race, Policing and Community Justice Advocates, Shorter Community AME Church's program to engage high school kids as peer presenters in the areas of racial equality, community awareness based policing and justice advocacy work.
Shakespeare in the Parking Lot, Denver Center for the Performing Arts' "food truck for the arts," taking theatrical performances to high school students in school parking lots.
The Stompin' Ground Games, Warm Cookies of the Revolution's year-long Olympics-style competition between Denver neighborhoods, combining arts, culture and history in the name of civic pride and engagement.
Veterans in Food Deserts, Denver Botanic Gardens' program in which military veterans bring fresh produce and planting, harvesting and nutrition knowledge to neighborhoods with limited access to healthy foods.
Workshop on Wheels, Be the Gift's fully outfitted mobile home repair truck serving single mom families.
The winning organizations continue to convene with Foundation staff and one another to share their progress and lessons learned. Each project received funding for one year and is expected to report on the tangible impact they've made once the grant period ends in June 2016. Their work is already improving and inspiring our community – culturally, intellectually and physically – and will continue to do so into the future.
In May, Rose Community Foundation will launch Innovate for Good 2016. This year's project will have a thematic focus on empowering youth as agents of change in their communities, seizing the opportunity challenge philanthropy provides to shine a light on a particular issue or opportunity. Community engagement will remain at a high level with a strong media presence and by including community members in reviewing ideas and selecting winners. To encourage innovative ideas, a clearer definition emphasizing creativity, entrepreneurship and inspiration will be provided to idea submitters and reviewers.
Details on the Innovate for Good 2016 challenge will be announced in April with the criteria and information posted on rcfdenver.org/IFG. Idea submissions will be accepted from May 2 to May 31 and funds will be awarded in September 2016.
Whitney Gustin Connor is Senior Program Officer (Health) at Rose Community Foundation.