How Winning the Scrivner Award Aided Innovation
Tuesday, July 10, 2018 - 12:00 pm EDT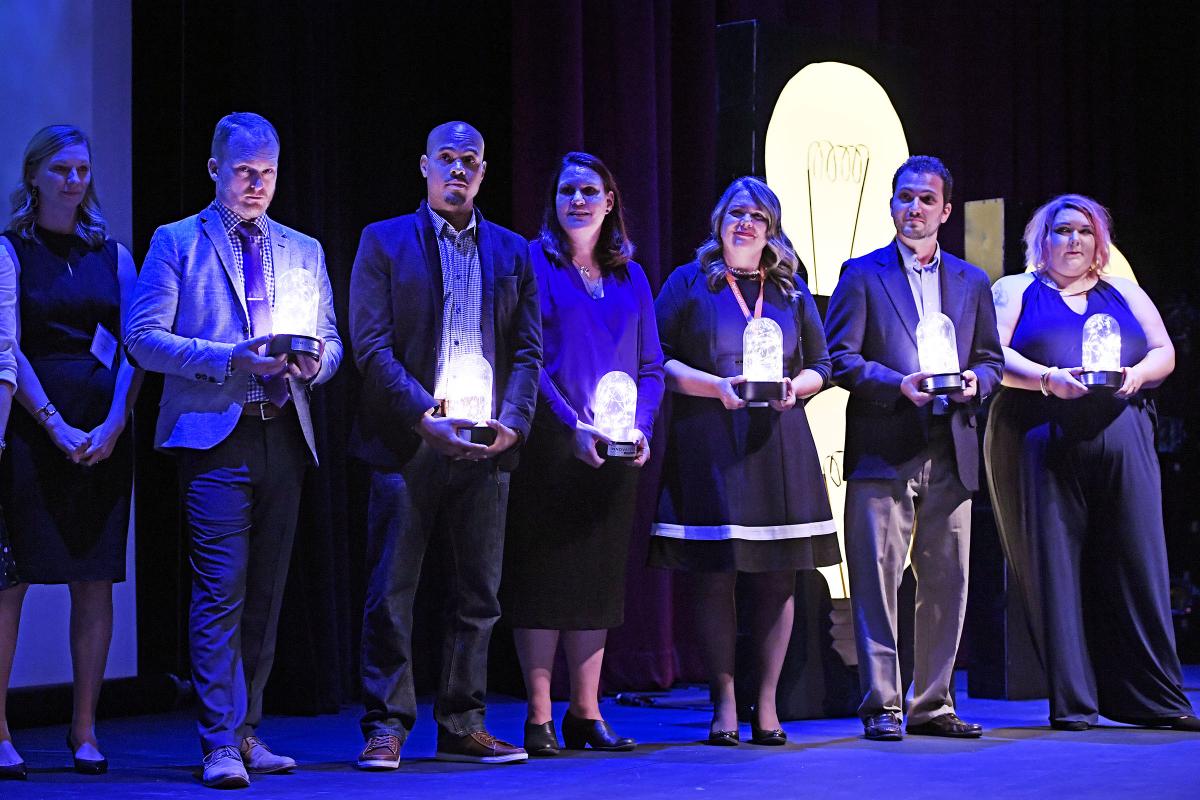 The inaugural cohort of innovators waiting for the grand prize announcement.
It was the 1980's and Robert Scrivner was leading the way to expose the destructive realities of nuclear war and the inevitable "nuclear winter" that would destroy most life on the planet. As a child of the 80's, I vividly recall the "duck and cover" drills at my elementary school and the collective stress they induced. Thanks in large part to Scrivner's innovative and creative work on nuclear disarmament, the Cold War unwound and those drills eventually died away.
The Robert W. Scrivner Award for Creative Grantmaking carries on Scrivner's legacy by recognizing a grantmaker who applies his vision, principles, and personal commitment to address major issues of his time. I received the Scrivner award in 2017 in recognition of my leadership in the creation of The Innovators Society, a program that funds promising, but not yet proven, approaches to mental wellness.
The Innovators Society invests significant resources to support the development of mental health innovations in the nonprofit sector. The program consists of a community investor pitch followed by a six-month period of high-impact coaching. During the community investor pitch, the innovators present their mental health innovations to hundreds of community leaders who then allocate Community First Foundation grant resources to the solutions with the most potential. The six-month high-impact coaching period includes access to coaches and advisors that help strengthen the innovation in an accelerator-style model.  Our 2018 Community Pitch Showdown resulted in $450,000 allocated among six promising innovations with the potential to greatly reduce the stigma surrounding mental health and illness. Those innovative leaders now have the support of a team of coaches, a community of advisors, and financial resources to scale their work for maximum impact.
The Scrivner award has provided our foundation the opportunity to look critically at the challenges of our community and elevate the leaders among us who bring hope to bleak circumstances. Community First Foundation, and our work around The Innovators Society is among many foundation-driven efforts across the nation to transform the mental health of our society.
If the leaders of these efforts have the same level of grit, passion, and creativity as our innovators, I am confident our nation is closer to real community well-being through the prevention, treatment, and de-stigmatization of mental illness.