Washington Snapshot: Senate Republicans Introduced a Slimmed-Down COVID-19 Bill
Friday, September 11, 2020 - 1:00 pm EDT
With Congress adjourned for the summer, Snapshot will not be published again in full until September 18. However, it is our goal to keep you informed on key updates as they occur. 
In This Week's Edition of Snapshot...
---
News from the Hill
Earlier this week, Senate Republicans introduced a slimmed-down bill in response to the ongoing COVID-19 pandemic. Included in the legislation was an increase to the temporary charitable deduction provision that passed as part of the CARES Act. Under current law, non-itemizers can claim an above-the-line deduction for their charitable giving up to $300. This new provision would have raised the cap to $600 for individuals and $1,200 for joint filers for 2020. Like many of our partners, the Council on Foundations, a member of the Charitable Giving Coalition, was encouraged by the provision's inclusion in this package. While a step in the right direction, we also realize that more is needed to provide charitable organizations with the resources they need to continue to meet the unprecedent challenges faced by families and communities. The Council will continue to work with our partners to urge lawmakers to pass the Universal Giving Pandemic Response Act (S. 4032/ H.R. 7324), which would raise the cap to approximately $4,000 for individuals and $8,000 for those filing a joint return.
On Thursday, the Senate package failed on a procedural vote. The vote's outcome was expected after Senate Democrats voiced their opposition to the package. It is unclear if another legislative package related to the ongoing COVID-19 crisis will come before either Chamber, especially as Congressional leaders turn their attention to passage of a continuing resolution to maintain funding for the federal government. While it has been reported that House Speaker Pelosi (D-CA) and Treasury Secretary Mnuchin have an agreement to avoid a federal government shutdown at the end of the month, details of the agreement have not been released including how long federal funding would be extended. 
---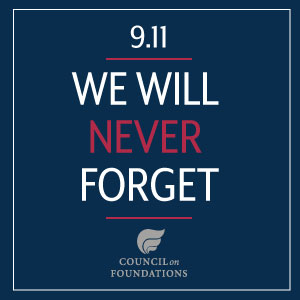 Today, we reflect as the country recognizes and remembers those we lost and those who made the ultimate sacrifice.
May we never forget, 9/11.