2021 Grantmaker Salary and Benefits Report: Key Findings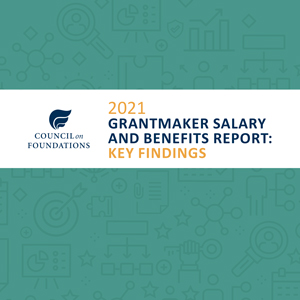 Drawing from data provided by 952 institutional responses, the 2021 GSB Key Findings highlights important human resource trends that are shaping the philanthropic sector.  This year's key findings feature the voices of human resources and operations leaders from community foundations, corporate foundations, and private foundations across the United States as they reflect on  how COVID-19 and the movement for racial justice impacted their internal operations.
In addition, the free GSB Key Findings resource shows that:  
The philanthropic sector is heeding the call to diversify foundation staff, with grantmakers hiring more people of color as program officers and chief executives. 
In response to the ongoing pandemic, more foundations are providing additional voluntary benefits, such as flexible spending accounts or tuition assistance.  
Worries raised in last year's report of hiring freezes, layoffs, and cuts in compensation or benefits did not bear out in this year's data, with the vast majority of respondents reporting that in 2020 their staff received a salary increase. 
The GSB Key Findings is an accompanying resource to the Grantmaker Salary and Benefits Report, which includes demographic data for 9,424 full-time staff and salary data for 9,787 full-time staff and provides  detailed salary information for 36 full-time professional and administrative roles in philanthropy, classified by both geographic region and type of foundation. 
Download 2021 GSB Key Findings