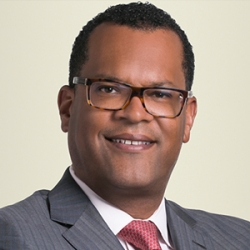 Fred Blackwell
The San Francisco Foundation
Chief Executive Officer
Fred Blackwell is a visionary leader working to ensure shared prosperity, innovation, and equity in the Bay Area. As CEO of The San Francisco Foundation, he leads one of the largest community foundations in the country, working hand-in-hand with donors, nonprofits, community leaders, business, and government partners in philanthropy to identify, influence, and leverage best practices and long-term solutions to make a greater impact in our community.
Blackwell, an Oakland native, is a nationally recognized community leader with a longstanding career in the Bay Area. Prior to joining the Foundation, he served as Interim City Administrator for the City of Oakland where he previously served as the Assistant City Administrator. He was the Executive Director of the San Francisco Redevelopment Agency and Director of the Mayor's Office of Community Development in San Francisco; served as the Director of the Making Connections Initiative for the Annie E. Casey Foundation in the Lower San Antonio neighborhood of Oakland; was a Multicultural Fellow in Neighborhood and Community Development at The San Francisco Foundation; and subsequently managed a multi-year comprehensive community initiative for TSFF in West Oakland.
Blackwell currently serves on the board of the San Francisco Bay Area Super Bowl 50 Legacy Fund and on UC Berkeley's College of Environment Dean's Advisory Council. He previously served on the boards of California Redevelopment Association, Urban Habitat Program, LeaderSpring, SPUR and Leadership Excellence. He holds a Master's degree in City Planning from UC Berkeley and a Bachelor's degree in Urban Studies from Morehouse College.