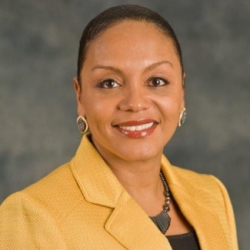 Gloria Johnson-Cusack, adjunct faculty member at the School of Professional Studies at Columbia University and Chairman of the Board of Trustees of the Firelight Foundation supporting communities in Africa, brings more than 25 years of expertise in executive management and training, advertising, communications, public policy and lobbying. Her work is informed by leadership positions in the private and philanthropic sectors, as well as significant time spent in the U.S. Congress, federal and municipal agencies, presidential campaigns, and the White House. She has been quoted in several national news outlets including a personal featurein CNN/Money news.
Currently, Gloria provides consulting services for leaders in philanthropy and the nonprofit sector regarding governance, coaching and leadership development, and strategic planning/brand positioning for fundraising and advocacy. She is certified with the Myers and Briggs Training Institute.
Gloriawas Executive Director of Leadership 18, an alliance of 18+ CEO's responsible for leading national nonprofit organizations including American Red Cross, Boy Scouts of America, Catholic Charities USA, Girl Scouts of the USA, The Salvation Army, The YMCA, and United Way Worldwide.  In that role, she was a lobbyist and principal strategist for the national Charitable Giving Coalition focused on preserving charitable tax incentives in the U.S.
Johnson-Cusack is the immediate past National Chairman of the Board of Trustees of United Cerebral Palsy, served for six years as a member of the federal Presidio Trust's Advisory Council for the Presidio Institute focused on service and cross-sector leadership, and was Director of the Office of Congressional Relations at the U.S. Peace Corps.
Gloria completed a year-long United Way Worldwide Executive Leadership Development Program conducted at Harvard Business School, the Center For Creative Leadership, and Deloitte University. She holds degrees from the American University School of Public Affairs and Columbia College, Columbia University.