A Guide to Advocacy, Lobbying & Election Related Activity: Navigating the Rules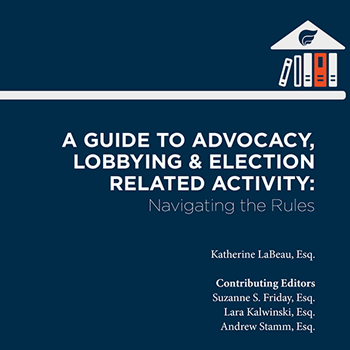 The purpose of this chapter is to help you understand the federal tax laws and regulations that govern how, when, and to what extent different types of foundations can engage with policymakers, their staff, or candidates running for public office. It also covers the distinction between the advocacy activities that you as a foundation can do, those that your staff can do, and those that your grantees can do with your support.
This chapter is divided into six parts:
Lobbying Versus Advocacy
Part One is designed to help you understand the federal tax law distinction between lobbying and advocacy, which can sometimes stymie foundations.
Private Foundations and Policy Engagement
Part Two covers which activities by private foundations (or grantees) in the public policy arena are permissible and which are not.
Public Charities: What Rules Apply to Community Foundations
Part Three defines the rules that govern how much lobbying a community foundation may engage in on an annual basis.
Campaign Intervention: A Blanket Prohibition
Part Four discusses what kinds of activities violate the blanket prohibition on foundation participation or intervention in political campaigns on behalf of (or in opposition to) any candidate for public office.
Individuals Associated with Foundations
Part Five outlines the election-related activity rules that apply to individuals associated with public charities or private foundations (e.g., staff, board members, volunteers) in their personal and professional capacities.
Other Rules that May Apply: Election & Campaign Finance Laws
Part Six explains federal and state election and campaign finance laws throughout the United States.
---
Accessing this Chapter
As a benefit of Council membership, members can download this chapter for free. Nonmembers of the Council can purchase this chapter of the Legal Compendium in our store for $149.