An Overview of the Law Governing Community Foundations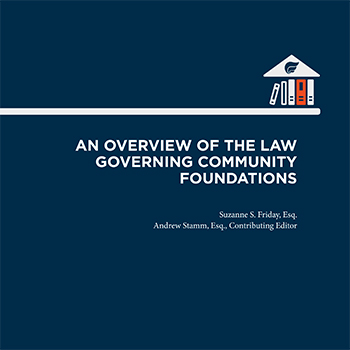 This chapter is intended to examine and explain those common legal characteristics shared by community foundations and to provide a comprehensive legal overview of the rules and regulations that govern community foundations. Federal tax law will be the focus, although certain sections will discuss state-specific law. You will also find some comparisons between community foundations and other organizations such as private foundations.
This chapter is divided into six different parts:
What is a Community Foundation?
Part One explains the concept of a "community foundation" by examining various definitions, common characteristics, and formation requirements. This part also reviews the century-old history of community foundations.
Federal Tax Status of a Community Foundation
Part Two discusses the Federal tax laws and regulations that are important to the governance of community foundations..
Charitable Contributions and Tax Benefits for Donors
Part Three reviews the tax benefits that donors receive for contributing to community foundations and discusses compliance and reporting requirements related to such gifts.
Grantmaking to Other Charitable (and Non-Charitable) Organizations
Part Four examines the grantmaking activities of community foundations and compares grantmaking rules applicable to different types of grantees and different types of funds.
Grants to Individuals
Part Five discusses how community foundations can provide financial or other assistance to individuals and stay in compliance with the law.
Self Regulation and National Standards for Community Foundations
Part Six concludes with a discussion of the National Standards for U.S. Community Foundations™ program and how this respected self-regulation program came about.
---
Accessing this Chapter
As a benefit of Council membership, members can download this chapter for free. Nonmembers of the Council can purchase this chapter of the Legal Compendium in our store for $199.