Starting a Foundation: Formation and Considerations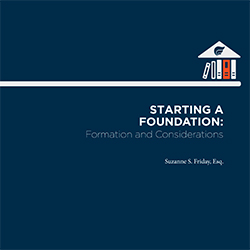 Many people want to start foundations, but few start out knowing exactly what sort of organization they are going to create. The purpose of this e-book is to help potential donors understand the many different entities that are commonly referred to as foundations and to provide an understanding of the legal framework necessary to establish a foundation.
This publication is broken into five different parts plus it includes sample Articles of Incorporation and Bylaws to get you started.
Part 1 — Public Charities and Private Foundations: An Introduction to Tax-Exempt Charitable Organizations
This section explains what it takes to be a tax-exempt charitable organization in the United States as well as the crucial distinctions between public charities and private foundations.
Part 2 — What Is A Private Foundation?
This section discusses private foundations. It surveys the different types of private foundations so that donors can understand the variety of forms their organizations can take.
Part 3 — The Community Foundation Option
This section explains how the community foundation differs from other public charities and why it is an attractive option in a variety of circumstances.
Part 4 — Choosing the Right Type of Foundation
This section pulls together the definitions and distinctions from previous sections to help you choose the right foundation type to meet your needs.
Part 5 — First Steps In Starting A Foundation
This section outlines the first legal steps that are necessary to establish a foundation and is aimed at readers who are ready to choose from the many alternatives. Theses steps include:
Get a lawyer.*
Determine what legal form should be used (trust or not-for-profit coporation).
Determine applicable state laws for financial and governance duties for the directors of the foundation.
Draft organizational documents including articles of incorporation and bylaws.
File for tax-exempt status with the IRS.
*This publication should help readers save on legal fees. In most circumstances, attorneys will bill for the hours necessary to provide the services needed. By reading and understanding this publication, you will avoid the time needed for the lawyer to educate you on the basics and will narrow the range of issues that the lawyer will need to consider. Also, with the understanding of the legal framework that this resource provides, you will be better able to assist counsel in preparing many of the legal documents necessary to establish a foundation.
Nonmembers Purchase from Store