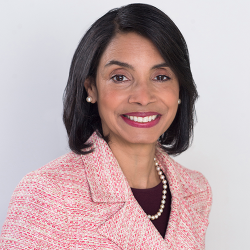 Stephanie Bell-Rose
TIAA Institute
Senior Managing Director and Head of the TIAA Institute
Stephanie Bell-Rose leads the TIAA Institute, which produces original research and insights on issues pertaining to financial security and organizational effectiveness for the educational, non-profit and public sectors.  Prior to her appointment at TIAA, Bell-Rose served as president of the Goldman Sachs Foundation, and as legal counsel and program officer at the Andrew W. Mellon Foundation.
She currently serves on the Boards of Trustees of The John S. and James L. Knight Foundation, the Public Welfare Foundation, and the Council on Foundations.  She is a member of the Council on Foreign Relations, the Economic Club of New York, the Executive Leadership Council and the Women's Forum of New York City.  After a number of years of board service, she remains an Honorary Trustee of the American Museum of Natural History and Trustee Emerita of the Barnes Foundation.
She received A.B., J.D. and MPA degrees from Harvard University.