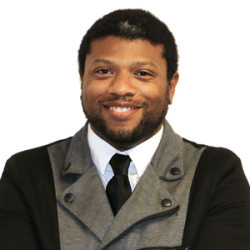 Brandolon is the former Research Manager for the Council on Foundations.
Prior to joining the Council on Foundations Brandolon managed the philanthropic research team for FrontStream, a company providing software and services to enhance the philanthropy of Fortune 500 corporate social responsibility teams, foundations, and smaller nonprofit clients. Brandolon transformed the company's analytics into a viable service internally and for clients as the startup grew to 300+ employees processing donation volumes second only to BlackBaud in the nonprofit tech space. His research into international charitable databases, treaties, & regulations expanded the company's charity vetting capabilities to an additional 22 countries and the team researched over 84,000 charities for clients to bolster compliance of corporate philanthropic initiatives. The group also coordinated the company's first internal employee engagement efforts, raising funds to support Nepal and organizing blood drives and other initiatives.
Beyond research Brandolon has coordinated initiatives in US markets and internationally. As a Program Associate with Globe Aware he conducted site visits to Laos, Thailand, Costa Rica, Jamaica, etc., established the organization's Ghana volunteer program, created the organization's Global Wings Scholarship program, and represented the company on the advocacy committee of the Brookings Institution's Building Bridges Coalition. With the Memnosyne Institute he founded the DFW Sustainable Leadership Awards. He also coordinated partnerships including an initiative with Houston's Menil Collection providing New Zealand researchers with unique access to examine artifacts of their culture housed in the museum's collection.
Brandolon holds a BA in Communications from the University of Pittsburgh and an MA in International Studies from the University of London SOAS. There he specialized in international economics and the power for non-state actors, principally corporations and foundations, to positively impact development. While he has moved around from Dallas to Pittsburgh, and from London to San Francisco and Washington D.C., Brandolon is a proud Texan and die-hard Dallas Mavericks fan. He is fluent in Japanese and loves traveling, anime, and trying to make a difference at work, volunteering as mentor, or in other ways.