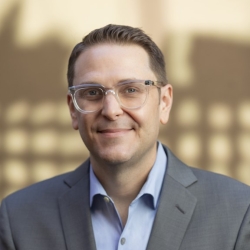 Christopher Goett
Santa Fe Community Foundation
President and CEO
Throughout his career, Christopher Goett has been actively involved with community development and civic engagement in low-income neighborhoods across the country.

As President and CEO of the Santa Fe Community Foundation (SFCF), Goett drives the overall strategic direction, cohesion, and management of a multi-component community foundation, comprised of numerous charitable funds and initiatives. He works to amplify SFCF's role as a community resource through strategic partnerships and moves collaboratively within a broad spectrum of stakeholders to advance the Foundation as a convener on issues and challenges facing the northern New Mexico region.

Prior to joining the Santa Fe Community Foundation, he served as the first Executive Director for the Wescom Foundation, where he provided and managed the strategic direction for all Foundation processes involving grantmaking, development, board governance, and community impact programs supporting Southern California. During his tenure, he developed the Foundation's first three-year strategic plan, created rigorous financial and operational protocols, implemented a cloud-based constituent relationship management (CRM) system for grants management, and coordinated extensive governance training for the Foundation's volunteer Board of Directors.

Christopher graduated cum laude with a Bachelor of Arts from Villanova University and earned a Master of Social work degree with an emphasis on community organizing and economic development from the University of Maryland, Baltimore. He was named a 2014 PLACES Fellow with the Funders Network for Smart Growth and Livable Communities. He and his wife Julie enjoy hiking, volunteering, and traveling.