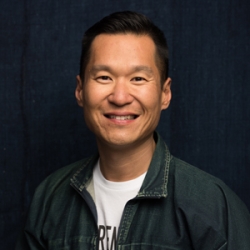 Daniel Lee
Council on Foundations
Executive in Residence
Daniel Jae-Won Lee is a seasoned leader in the fields of philanthropy, human rights, public health, and corporate social responsibility. In 2022, Daniel Lee joined the Council's Executive Office as the newest member of the executive-in-residence program. He recently stepped down from his position as executive director of the Levi Strauss Foundation after over 10 years in the role. From 2011 to 2017, Lee served as a Council on Foundations board member and became well-versed in the Council's mission and role in the field.
He has played a lead role in the design and implementation of the Foundation's signature initiatives – including Pioneers in Justice and Worker Well-being. Over the past decade, Pioneers in Justice has invested over five-year spans in groups of nonprofit leaders of color in the San Francisco Bay Area as they seek new approaches, skills and partnerships to reshape the next wave of social justice movements.
The Worker Well-being initiative supports factory-based financial empowerment, health and family well-being and gender equality in partnership with suppliers and local community organizations. Since piloting in 2011, it has impacted more than 200,000 apparel makers in 17 countries, which represents two-thirds of the company's product volume.
In the wake of this disruptive social and political moment, the Levi Strauss Foundation has invested $5MM in its Strategic Response Fund to protect the civil liberties of highly vulnerable communities in the United States and abroad – including immigrants, refugees, religious minorities and the transgender community. LSF received the inaugural Impact Award in the corporate category by the National Committee for Responsive Philanthropy in 2012; it was also named "best corporate donor of 2019" by Inside Philanthropy.  
Board service has also included the National Committee for Responsive Philanthropy, La Cocina, Global Health Advisory Council of Open Society Foundations, Grantmakers for Effective Organizations, Astraea Foundation, Funders Concerned about AIDS (former chair) and Massachusetts Asian AIDS Prevention Project (founding board); and advisory councils of Advancing Justice-Asian Law Caucus, The Giving Side, Horizons Foundation and Global Fund for Women.
Previously, he served as Senior Program Officer for Asia Pacific at the International Gay and Lesbian Human Rights Commission (now known as Outright Action International) and did a stint as researcher-writer for Let's Go travel guides. He received his AB in religion (magna cum laude) from Princeton University, Master of Divinity from Harvard University and Honorary Doctor of Sacred Theology from the Starr King School for the Ministry. Daniel grew up in South Dakota, lived abroad in Singapore and Korea and resides in San Francisco.