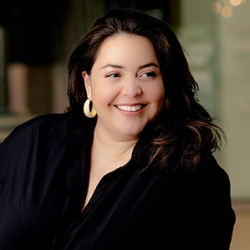 Daniela Rodriguez Ranf
Council on Foundations
Director, Leadership Development and Training
Daniela Rodriguez Ranf is the Director of Leadership and Training at the Council on Foundations. Since joining the Council in 2017, she has worked in curriculum development for fundamentals courses, workshops, and webinar programming, as well as the Career Pathways program, the Council's leadership cohort, designed to accelerate the careers of diverse professionals in the philanthropic sector. Daniela is also a trained and certified leadership development coach. Prior to joining the Council, Daniela worked at the Open Society Foundations (OSF) in the Latin America Program where she worked with the operations team on organizational effectiveness and capacity building within the Latin America Program and the network. 
Daniela holds a Bachelor of Arts degree from the University of Maryland in Communications, with a minor in International Relations, and a Masters of Public Administration from Maxwell School of Citizenship Syracuse University.
You should contact Daniela about the Council's leadership programs, trainings, workshops and courses, as well as virtual learning offerings.