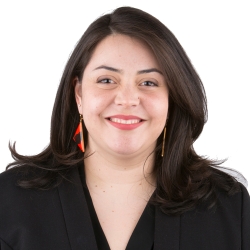 Daniela Rodriguez Ranf
Council on Foundations
Director, Leadership Development and Training
Daniela Rodriguez Ranf is the Director of Leadership Development & Training for the Council's programmatic team. Prior to joining the Council, Daniela worked at the Open Society Foundations (OSF) in the Latin America Program where she worked with the operations team on organizational effectiveness and capacity building within the Latin America Program and the network. Before her work at OSF, Daniela worked at Amnesty International USA's Campaign for Individuals at Risk, advocating on cases of human rights defenders and cultivating her activism skills and community organizing.   
Daniela holds a Bachelor of Arts degree from the University of Maryland in Communications, with a minor in International Relations. In 2016, Daniela graduated with her Masters of Public Administration from Maxwell School of Citizenship Syracuse University.
Daniela is from Barranquilla, Colombia and has lived in the DC area for the past twenty years. In her spare time, she enjoys spending time with her family, traveling, going to the beach, taking dance classes, and cooking.
You should contact Daniela about the Council's leadership programs, trainings, workshops and courses, as well as virtual learning offerings.