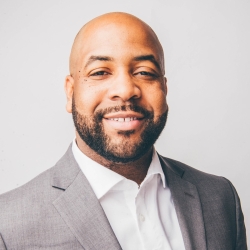 David R. McGhee
The Skillman Foundation
Vice President, Organizational Excellence & Impact
David R. McGhee, vice president of organizational excellence & impact, supports the Foundation's president & CEO and provides leadership across the Foundation. He helps shape and support key initiatives and projects, manage external relationships, and ensure organizational alignment in service of advancing the Foundation's mission.
David was appointed as vice president of organizational excellence & impact in 2019. Previously, he served as a program director at the Foundation, responsible for overseeing its Economic Well-Beingimpact area. Prior to joining the Foundation in 2014, David served as a program director for Big Brothers, Big Sisters and as a congressional liaison for U.S. Representative Dan Kildee, who represents Michigan's 5th Congressional District.
David serves on numerous boards, both local and national, including Flint Public Library, Michigan College Access Network, and Learn Fresh Education Company – the parent company of NBA Math Hoops.
David received his bachelor's degree in public administration & public policy from Oakland University and a master's degree in leadership from Central Michigan University.
He is a lifetime resident of Flint, Michigan.