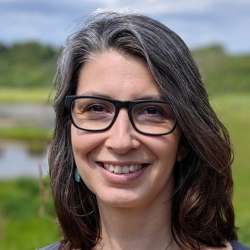 Gabriela Alcalde
Elmina B. Sewall Foundation
Executive Director
Gabriela is a public health leader with 20+ years of experience and commitment to equity and social justice. Gabriela joined the team of the Sewall Foundation as Executive Director in the summer of 2019 and in this capacity leads the integration of environmental, human and animal health and welfare as the foundation works to center equity and community voices in all of their work and strategies.

Prior to joining the Sewall Foundation, Gabriela served as the first Managing Director for Equity and Health at Richmond Memorial Health Foundation (RMHF) and as Vice-President for Policy and Program at the Foundation for a Healthy Kentucky. Gabriela has worked in the philanthropic, academic, government, nonprofit and grassroots sectors throughout her career and served in various volunteer capacities to promote equity.

She earned a DrPH in health administration at the University of North Carolina at Chapel Hill, an MPH in maternal and child health at Boston University and a bachelor's degree in psychology from the University of Louisville. A native of Lima, Peru, she currently lives in Maine with her husband, children and pets.