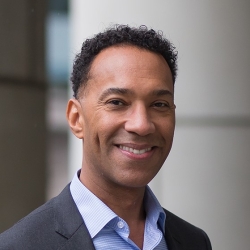 Galen Maness
The San Francisco Foundation
Chief Operating Officer
Galen Maness is the Chief Operating Officer for The San Francisco Foundation. Galen's org structure includes Human Resources, Organizational Development, Information Technology, Office Management, and Grants Administration. Galen is an Officer of the Foundation and is the Board Secretary. Galen possesses multi-sector experience, having worked for non-profits and large Fortune 500 corporations.  Galen has over 15 years of experience in Human Resources and has developed a track record building strategies and championing work cultures that reflect Equitable policies, practices, and norms.
Galen is a member of the 2020 Council of Foundation Career Pathways cohort, has been on the design team of several of the Councils' HR Summits, and has been asked to be a guest speaker by the Council.
Before joining The San Francisco Foundation, Galen was the Director of Human Resources for Starbucks, supporting the high growth, multi-branded Northern California market. While at Starbucks, Galen was a member of the Starbucks National Veteran's Advisory Council and collaborated with civic and community leaders to create job opportunities and career tracks for residents in under-resourced communities.
Before Starbucks, Galen held Human Resources leadership roles for Walmart, Banana Republic, and Blockbuster. His extensive experience supporting field and corporate-based organizations has deep roots in community stewardship.
Galen received his B.A. in Human Resources Management from Ashford University, his M.A. in Organizational Development and Leadership from Fielding Graduate University, and has a Senior Professional in Human Resources (SPHR). He served on the Mayor's (Oakland, CA) Workforce Investment Board from 2012 – 2016.