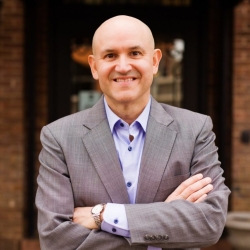 Javier Alberto Soto
The Denver Foundation
President & CEO
Javier Alberto Soto is President and CEO of The Denver Foundation, a community foundation that mobilizes resources to meet the needs of people in Metro Denver. Founded in 1925, The Denver Foundation harnesses philanthropy to build a future where all residents have the opportunity to prosper.
Before joining The Denver Foundation in October 2019, Javier spent 10 years as President and CEO of The Miami Foundation, where he led a period of significant growth and developed key initiatives including "Give Miami Day," which has raised more than $60M since 2012.
Prior to entering philanthropy, Javier served in the public sector, beginning as a litigator in the Miami-Dade County Attorney's Office and later as Chief of Staff to County Mayor Alex Penelas. Javier also worked as a litigator in the Miami office of Holland & Knight.
Javier recently completed a two-year term as Chairman of the Council on Foundations and currently serves on the board of America's Promise Alliance, a nationwide movement to improve the lives and futures of young people.
The son of Cuban immigrants, Javier was born in Madrid and moved as a young child to Miami. Javier graduated from Florida State University with a B.A. in History and Political Science and earned his J.D. from Georgetown University Law Center. He is also a 2013 Henry Crown Fellow, a leadership program of the Aspen Institute that engages the next generation of leaders to develop community-spirited and values-focused leadership