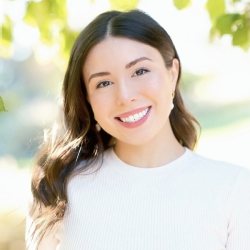 Jessica Chaparro
Council on Foundations
Associate, Engagement
As Associate of Engagement, Jessica facilitates the work of the Engagement Team, supporting membership engagement events and the Philanthropy Exchange.
Jessica received her Bachelor of Arts in Psychology from Butler University. Prior to joining the Council on Foundations, Jessica worked at the Center for Community Research at DePaul University as a Research Project Coordinator. In this role, she focused on applied research involving public policy issues with the mission to reduce stigma, empower citizens, and better understand environmental and systemic barriers. At DePaul she served on the Diversity, Equity, and Inclusion Committee where she worked to establish more inclusive frameworks within higher education.
She frequently volunteers with various organizations across Illinois, with the most recent being the LIONS club. In her free time, you can find Jessica listening to a funny podcast, attempting Great British Bake-Off recipes, or planning her next outdoor adventure to a National Park.
You should contact Jessica with any questions about Member Engagement and the Disaster Response.