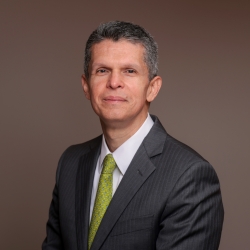 Juan J. Martinez
John S. and James L. Knight Foundation
Vice President/Chief Financial Officer and Treasurer
Juan Martinez joined Knight Foundation in 2002. As a member of Knight's executive committee, Martinez is a partner in the development and implementation of the foundation's strategy. He is responsible for the foundation's financial management, reporting and regulatory compliance, overseeing the management of its $2.5 billion investment portfolio, and partnering with program staff in development of grants and program-related investments. As Treasurer, Juan manages the Foundation's cash needs to align its $145 million annual spending with liquidity within its investment portfolio.
In order to best ensure the impact of major grants at Knight Foundation, Juan led the development and implementation of grant financial review program that annually assesses the financial and business operations of the Foundation's major programmatic investments.
In 2011, Martinez led the development of the Knight Enterprise Fund. The fund invested in more than 50 early-stage digital media companies that align with Knight Foundation's program mission. Martinez serves on the board of portfolio company ViewLift, an OTT management and streaming platform.
Juan staffs both the Board's Audit and Investment Committees, working closely with the Committee Chairs and Trustees to help achieve their governance goals.  He also leads the relationships with the Outsourced Chief Investment Officer, and Outside General Counsel
Juan started his career at CPA firm Arthur Andersen & Co. He later worked in the development of intellectual property for film and television and as an independent financial consultant. Prior to joining Knight, he was manager of financial planning for Telemundo Group Inc., the second largest Spanish language US television network.
He is an alumnus of Florida International University, Miami Dade College, and the Wharton School of Business. He has been a certified public accountant in the state of Florida since 1992. He currently serves on the Board of Directors of Council on Foundations, The Florida International University Foundation, and City to City Miami. He also serves as an advisor on several committees including the Launch with GS (Goldman Sachs' initiative to support diverse entrepreneurs).