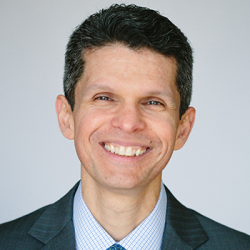 Juan J. Martinez
John S. and James L. Knight Foundation
Vice President/Chief Financial Officer and Treasurer
Juan joined Knight Foundation in May 2002. A member of Knight's executive committee, Martinez is a partner in the development and implementation of the foundation's strategy. He is also responsible for financial management, reporting and regulatory compliance, overseeing the management of its $2.3 billion investment portfolio and partnering with program staff on grants and program-related investments.
Martinez started his career at Arthur Andersen & Co. and has also been a consultant providing financial services to small to mid-sized corporate clients. Prior to joining Knight, he was manager of financial planning for Telemundo Group Inc.
Juan is an alumnus of Florida International University, Miami Dade College and the Wharton School of Business. He has been a CPA since 1992. He serves on the boards of the FIU Foundation and City-to-City Miami. He has also served on the board of The Miami Foundation and is still an adviser to the Investment Committee.