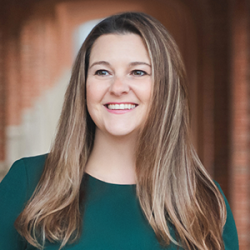 Kari Dickert
Council on Foundations
Manager, Marketing
As Marketing Manager for the Council, Kari leads the marketing function of the Communications and Content Department, developing and executing campaigns to promote the Council's programs, events, and products.
Kari got her professional start in the Philadelphia Tourism industry bringing the city's history to life with Historic Philadelphia, Inc. before finding her career path in association marketing and consulting. Throughout her career, Kari has worked collaboratively with over 30 trade, professional, and healthcare associations such as the Society of Hospital Medicine (SHM), Juvenile Products Manufacturing Association (JPMA), Controlled Release Society (CRS), and The ClaimsXchange. 
Kari is a graduate of the University of New Hampshire where she earned a bachelor's degree in Communications. She resides in Voorhees, NJ with her husband and two sons. She enjoys skiing, family road trips, shucking oysters, and hosting dinners for family and friends.