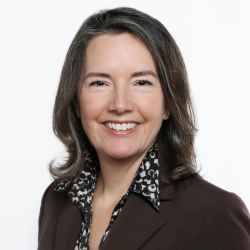 Kathleen McLaughlin
Walmart Foundation
President
Kathleen McLaughlin is Executive Vice President and Chief of Sustainability Officer for Walmart Inc. and President of the Walmart Foundation.
Kathleen is responsible for programs that help Walmart create economic opportunity through jobs and sourcing; enhance the sustainability of food, apparel and general merchandise supply chains; and strengthen the resilience of local communities. Through business initiatives and philanthropy, her teams work with Walmart associates, suppliers, nonprofit organizations and others to drive significant and lasting improvements to economic, social and environmental systems. Last year, the company awarded more than $1.4 billion in cash and in-kind donations, including over $975 million of food donations.
Before joining Walmart in 2013, she spent more than 20 years with the global consulting firm McKinsey & Company.
Kathleen serves on the boards of the Council on Foundations and World Resources Institute and is a member of NatureVest and the Chief Executives for Corporate Purpose's Strategic Investor Initiative Advisory Boards.
Kathleen earned a bachelor of science in electrical engineering from Boston University, as well as a master of arts in politics, philosophy and economics from Balliol College at Oxford University, where she was a Rhodes Scholar. She also has a diploma in theology from Oxford. She is married with three children and divides her time between Bentonville, Arkansas, and Toronto, Ontario.