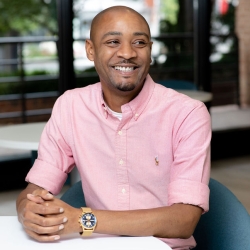 Keith Hill
Council on Foundations
Executive Assistant
Keith Hill is the Council's Executive Assistant and earned his B.A. in Telecommunications from the Pennsylvania State University. Prior to the Council, Keith worked at mission-based organizations like Washington Intern Student Housing and the National Association of Manufacturers. Keith has a passion for work that leverages making a difference and influencing positive change.
Keith is a Washington, DC area native who grew up in Montgomery County Maryland. In his spare time Keith enjoys visual arts and exploring different mediums. As an avid painter and sketch artist Keith commissions works for friends, family and the community regularly.
You should contact Keith with any questions regarding the Executive Office or speaking requests for Kathleen Enright.