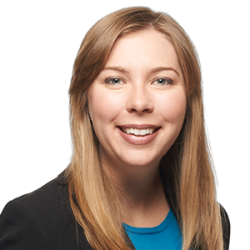 Laura Tomasko
Associate Director
As a network developer at the Council on Foundations, Laura tracks philanthropic trends and builds relationships with leaders advancing the common good across sectors. In her capacity as network developer, she leads an impact investing initiative and regularly interacts with those interested in the changing landscape of social good. Previously as manager of public-philanthropic partnerships, she built the capacities of federal agencies interested in partnering with foundations. Before joining the Council, her philanthropy experience included operations work at Grantmakers for Effective Organizations and grantmaking at the Central New York Community Foundation. At the community foundation, she evaluated grant applications and coordinated a leadership development program for local residents. She gained programmatic development and evaluation experience when she helped launch and manage a youth development program at The Children's Aid Society in New York City.
Laura has been named a Global Shaper by the World Economic Forum and is a member of the Washington, D.C. Hub. She is also a StartingBloc Fellow and writes for UnSectored, serving on advisory boards for both organizations. She previously served as the external affairs chair of the Young Nonprofit Professionals Network board in New York City and was selected as a Junior Fellow for the United Way Nonprofit Leadership Development Institute.
Laura received a Bachelor of Arts in history from Occidental College, graduating Phi Beta Kappa. She holds a Master of Public Administration from the Maxwell School of Citizenship and Public Affairs at Syracuse University, where she served as the Vernon Snow Fellow in Nonprofit Management. Laura lives in Washington, DC, her hometown.
You should contact Laura about the evolving landscape of financing social good, including the blurring of lines across sectors, assessing effectiveness, impact investing, venture philanthropy, crowdfunding, prizes and challenges, and more.