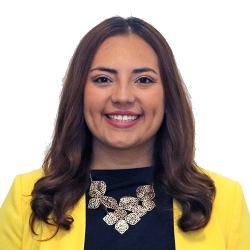 Manuela Contreras
Council on Foundations
Manager, Leadership
Manuela Contreras is the Manager, Leadership with the Programs team. She is responsbility for leading the Leadership Development programs such as our flagship program, Career Pathways. Manuela also supports the Council's virutal learning and large conference.  Prior to joining the Council, Manuela worked as a marketing associate for Philips North America. For the past six years she has worked with the Rise and Walk Foundation as a mission trip coordinator and sits on the Board of Directors.
Manuela holds a Bachelor of Sciences degree from Sacred Heart University, where she studied Global Studies and International Business Management. During her undergraduate she interned with Make-A-Wish of Connecticut as wish development coordinator, and at Danone S.A to launch their HeForShe gender equality programs in the Netherlands. Her experience with Rise and Walk in Bogota, Colombia, and her various internships sparked her passion for international development, nonprofits, and the philanthropic sector.
Manuela was born in Bogota, Colombia and has lived in New Jersey for the past 17 years. Manuela loves to travel, explore new cultures, hear about people's journeys, go on hikes and paint in her free time.
You should contact Manuela with questions regarding programming for leadership development, virtual learning, and other councils programs and events.