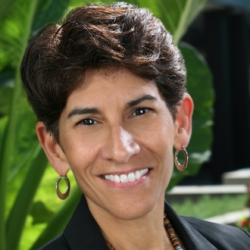 Martha I. Jimenez
The California Endowment
Executive Vice President, General Counsel and Corporate Secretary
Martha I. Jimenez is the Executive Vice President, General Counsel and Corporate Secretary of The California Endowment. Her responsibilities include serving as chief advisor to The Endowment's President and CEO, the Board of Directors and staff on legal and governance matters. Additionally, Ms. Jimenez chairs the President and CEO's Executive Team and leads the foundation's organizational and operational effectiveness and strategy efforts, including the Office for Planning and Integration, Facilities, Center for Healthy Communities Conference Centers, and Administrative Grant-Making functions.
Prior to joining The Endowment, Ms. Jimenez served as Senior Counsel for Los Angeles County Supervisor Gloria Molina, having also served in that office as the Director of Legal and Health Programs. As Senior Counsel, she was responsible for providing guidance and recommendations to the Supervisor and her staff on legal strategy, policy development, and risk management issues.
Additionally, Ms. Jimenez served as Vice President for Policy and Development for Fair Trade USA where she advocated for "fair trade" practices that support farmers in developing countries by working with U.S.-based businesses; as a Program Officer with the Rockefeller Foundation and The California Endowment; as a Managing Attorney with Public Advocates and an Executive Director of the Latino Coalition for a Healthy California; and as a civil rights attorney  with the Mexican American Legal Defense and Educational Fund (MALDEF) based in Washington, D.C. and Regional Counsel based in San Francisco.