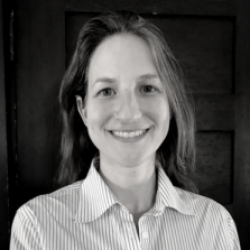 Martha Lackritz-Peltier
NGOsource: TechSoup
Senior Counsel
As NGOsource's Senior Counsel, Martha independently manages a portfolio of equivalency determination (ED) applications, including reviews, approvals, and certifications. In addition to all aspects of ED management, Martha works closely with NGOsource's global network to ensure a streamlined and efficient ED process by managing and responding to inquiries and training.
Prior to joining NGOsource, Martha worked at the law firm of Adler & Colvin, where she counseled nonprofit and tax-exempt organizations and donors, with an emphasis on international grantmaking, advocacy, corporate governance, and charitable solicitation.
Prior to this, Martha clerked for the Honorable Chief Justice Wallace Jefferson, interned for Nina Totenberg at NPR in Washington, D.C., lived in Vietnam under a Fulbright grant, and worked as a freelance journalist. She has authored numerous articles and blog posts on federal tax law regulations, nonprofit compliance, and international law. Martha holds a bachelor's degree from Brown University and a J.D. from UC Berkeley Law School. In her free time, she volunteers for local nonprofit organizations and is a proud Oakland resident. Among her favorite things are artichokes, flea markets, old-time radio broadcasts, and French noir comics.