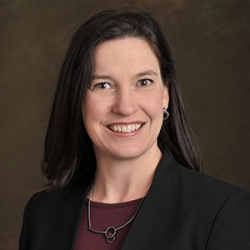 Mary O'Donnell
RRF Foundation for Aging
President
Mary O'Donnell is the president of RRF Foundation for Aging (RRF) in Chicago, IL. RRF is a national grantmaking organization and one of the few private foundations in the U.S. devoted exclusively to aging issues and improving the quality of life of older people.
Mary oversees all Foundation operations, the annual distribution of more than $7.5 million to grantee partners, and the implementation of a strategic plan that calls for proactive and solutions-focused grantmaking, funder collaboration, and knowledge sharing.
RRF's funding strategies seek to amplify and positively impact four priority areas. These include family caregiving, older adult housing, social and intergenerational connectedness, and economic security in later life. Mary's leadership ensures a top-level commitment to this work.
She joined the RRF Foundation for Aging in 2009, leading various aspects of its grantmaking, planning, and strategic advancement efforts before stepping into her current role in 2020. Nationally, Mary served on the Board of Directors of Grantmakers in Aging for several years, and Grantmakers in Health named her an Emerging Leader in Health Philanthropy. Locally, she has been active within Forefront and Chicago Foundation for Women. Mary received her master's degree from the University of Chicago's School of Social Service Administration, with concentrations in geriatric social work and nonprofit management. www.rrf.org