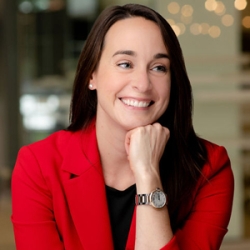 Maureen Joudrey
Council on Foundations
Director, Operations
Maureen is a strategic operations leader with a track record for building operational foundations for non-profits and start-ups. She is known for being an exemplary business partner by streamlining internal operations, utilizing technology to efficiently and effectively drive results, and inspiring action across all levels of the organization.
Before joining the Council, Maureen was the vice president of operations and technology at ITI, the advocacy and policy organization for the world's leading innovation companies. In her role, she worked to provide strategic leadership and operational excellence in the design and implementation of all information systems, leveraging technology to enable greater coordination and effectuation of ITI's mission. Before joining ITI, Maureen's work focused on building web and mobile applications for startups and non-profits and implementing programs and events to support entrepreneurship.
Maureen was born and raised in Nova Scotia, Canada, and moved to Washington, D.C. in 2013 to earn her Master of Business Administration from The George Washington University. Her favorite daily routine is her morning and evening walks with her husband and two chocolate labs, Tag and Otter. She also volunteers as an adoption coordinator for Lu's Labs, a foster-based rescue for labrador retrievers and lab mixes, where she helps to find rescue dogs their forever home.