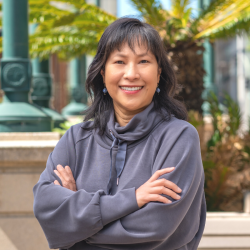 May Leong is Senior Institutional Partnerships Officer at the East Bay Community Foundation. A passionate community builder, she has more than 30 years of work experience in a variety of positions from Wall Street to Tokyo, Seattle, and San Francisco.
She formerly served as Executive Director at the Chinese Culture Center of San Francisco, Donaldina Cameron House, and Digital Eve. As a development director, May directed fundraising teams at nonprofits focused on effectively serving K-12 kids of color, homeless youth, and vulnerable seniors in the areas of education, housing, and social services. She co-founded DigitalEve, the first international nonprofit for women involved with the Internet, and grew the organization to serve 31 chapters in five countries with 15,000 members, using web technology and traveling to meet with chapter leaders to develop strong relationships and trust.
May's corporate experience includes Xerox, The FDIC, Townsend-Greenspan, Montgomery Securities, and The Body Shop. After earning her MA in English from San Francisco State University, she taught English as a Second Language at college and university programs in the SF Bay area, Seattle, and Japan.
Her business articles have been published in print and online in the United States and Japan. May is regularly invited to provide workshops to nonprofit Boards and senior leaders in the areas of sustainability/fundraising and leadership development. She is moving to Valencia, Spain in January 2023 and looks forward to seeing where she lands next in her career.