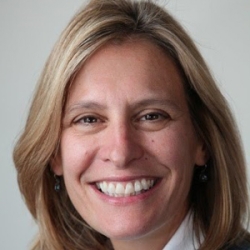 Molly McUsic
Wyss Foundation
President
Molly McUsic is the President of the Wyss Foundation, a private, charitable foundation dedicated to supporting innovative, lasting solutions that improve lives, empower communities, and strengthen connections to the land.
First established in 1998 with a focus on conservation in the American West, the Wyss Foundation has helped communities, land trusts, and landowners forge new partnerships and implement innovative strategies to protect some of the country's most iconic landscapes–from Montana's Crown of the Continent to the Wyoming Range–ensuring they remain open and accessible to all.
In recent years, the Foundation has broadened its conservation work far beyond the American West.  The Foundation, for example, helps combat poaching and wildlife trafficking in eastern Africa, supports ocean conservation efforts in Canada and Peru, and is working to protect wild places around the world, from the Carpathian Mountains in Romania to the headwaters of the Amazon River.
The Wyss Foundation's philanthropy also aims to expand economic opportunity and equality. The Foundation, for example, provides support for efforts to ensure that the basic needs of the most vulnerable are met, that women have equal opportunities, and that society is inclusive and fair to all. The Foundation has provided grants that range from helping in the fight against hunger, to better access to healthcare, to the promotion of fair lending practices.
Prior to joining the Wyss Foundation, Molly served in the Clinton Administration as Counselor to Interior Secretary Bruce Babbitt. During her tenure at Interior, she oversaw the designation of National Monuments under the Antiquities Act, the principal vehicle used by President Clinton to protect more land in the lower forty-eight states than any President since Teddy Roosevelt.
She also was the lead negotiator on the largest state-federal land exchange in U.S. history–an agreement that officials from Utah and the federal government had been trying, and failing, to accomplish for fifty years. While at Interior, Molly testified numerous times in House and Senate Hearings on land exchange and conservation legislation.
Molly was a tenured professor at the University of North Carolina Law School, and a visiting professor at Harvard Law School.
Molly is a high honors graduate of the University of Notre Dame with a major in economics, and a magna cum laude graduate of Harvard Law School, where she was a member of the Harvard Law Review. She also clerked at the U.S. Supreme Court for Justice Harry A. Blackmun.