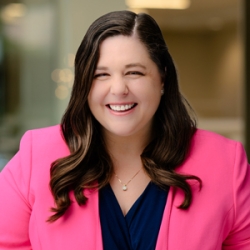 Natalie Ross
Council on Foundations
Vice President, Membership, Development and Finance
Natalie oversees revenue generation at the Council, in order to strengthen the long-term financial sustainability of the organization. Natalie leads the Council's membership and development teams, who build and maintain a community of engaged members and supporters. Natalie also leads design of new revenue generation activities, with a focus on piloting and scaling strategic opportunities for mission-informed growth and leadership. In 2019, Natalie led work to Reimagine Council Membership and create a new membership dues model. Natalie regularly speaks for the Council at events and in the press about trends in philanthropy, especially regarding international grantmaking. She has published articles and opinion pieces in the Guardian, Huffington Post, Chronicle of Philanthropy, Alliance Magazine, and others. 
Natalie serves on the Editorial Advisory Board of Alliance Magazine and as a member of the Advisory Council of the China NGO Project. 
At the Council, Natalie previously served as the Global Philanthropy Director and Vice President, External Relations. Prior to joining the Council, Natalie worked at the Aga Khan Foundation USA, where she mobilized and managed a $30M portfolio of global civil society programs and launched the Global Alliance for Community Philanthropy. Natalie received her bachelor's degree from Wellesley College and has lived and worked abroad throughout her career, including as a primary school teacher in Kampala, Uganda and as a Fulbright fellow in South Africa. Natalie is a life-long dancer who loves to travel and comes from a matriarchy of Midwestern bakers. 
You should contact Natalie if you want to learn more about Council membership, resources and trends in global philanthropy or to discuss how the Council engages our members and partners.