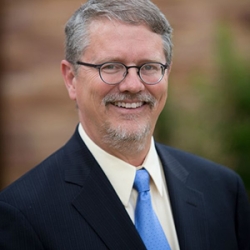 Peter Laugharn
Conrad N. Hilton Foundation
President & CEO
Peter Laugharn serves as President and Chief Executive Officer of the Conrad N. Hilton Foundation. Laugharn is a passionate leader with 25 years of foundation and nonprofit experience internationally, with a focus on improving the well-being of vulnerable children.
He was executive director of the Firelight Foundation from 2008 to 2014. Firelight identifies, funds, and supports promising African nonprofits serving vulnerable children and families in the areas of education, resilience, and health.
Prior to Firelight, Laugharn served for six years as executive director of the Netherlands-based Bernard van Leer Foundation, a private foundation that works to improve opportunities for children up to age 8 who are growing up in socially and economically difficult circumstances. He was director of programs at the Foundation for three years before becoming executive director.
Laugharn began his career at Save the Children, where he worked for 11 years in a variety of roles. Eight of those years, he was based in Bamako, Mali. Laugharn helped develop the Village Schools model, which promoted access to basic education, girls' schooling, and community participation. The model helped 45,000 children go to school and raised the number of primary schools in the country by 40 percent. Laugharn was later Save the Children's Mali Field Office director, West Africa Area director and then education advisor for Africa, providing technical assistance for programs in 10 countries.
A graduate of Stanford and Georgetown Universities, Laugharn holds a Ph.D. in education from the University of London. He was a Peace Corps volunteer in Morocco from 1982 to 1984. Laugharn was a co-founder of the International Education Funders Group and the Coalition for Children Affected by AIDS, and he serves on the boards of the Council on Foundations and Pacific Council on International Policy.