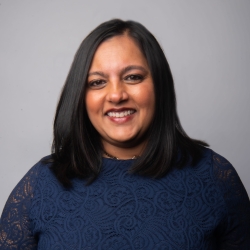 Punita Dani Thurman
Skillman Foundation
Vice President of Programs & Strategy
Punita Dani Thurman is vice president of program & strategy, leading strategy and overseeing the execution of the Foundation's programmatic work.
Punita brings an extensive history of working across different sectors—private, public education and philanthropy—centering large-scale systems and policy change. In 2019, Punita was appointed by Governor Gretchen Whitmer to serve as a Commissioner for the State of Michigan with the Education Commission of the States. She is recognized as a key figure in education policy in the state and works to inform policymakers on the issues that matter most to students and parents. She also serves on the State of Michigan's PreK-12 Literacy Commission and holds a range of nonprofit board leadership roles across the state.
Her experiences include leading Human Capital Development at Fort Worth Independent School District, a large urban district serving over 85,000 students and nearly 5,000 teachers. Her work centered on a variety of strategic initiatives including the design and implementation of a $15M differentiated compensation/school transformation effort. She helped launch a national nonprofit centered on transforming how teachers are trained, TeachingWorks, housed at the University of Michigan School of Education. Punita has also served as a private sector consultant, supporting large-scale transformation efforts.
Punita has had the opportunity to build national networks including: Broad Residency Network (2006-2008), The Funders Network PLACES fellow (2016), Council on Foundations Career Pathways Fellow (2018), and is currently a fellow in the Annie E Casey Children and Family Fellowship.
Punita holds a bachelor's in finance and management from the University of Michigan and a master's in organizational strategy from the Fuqua School of Business at Duke University.