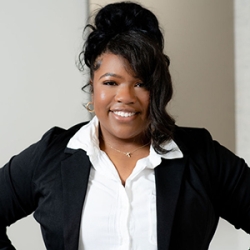 Reniece Butler
Council on Foundations
Associate, Conferences and Events
Reniece was born in Washington D.C and raised in Bowie, Maryland. Upon graduation from high school, she pursued a dual degree from the University of North Carolina at Charlotte. She obtained a Bachelor of Arts in Communication Studies with a concentration in Organizational Communication and a Bachelor of Science in Business Administration with a concentration in Marketing.
Prior to working at the Council, Reniece was employed with the Society for Neuroscience (SfN) as the Meetings Program Assistant. Her position entailed working alongside the Meetings Program and Attendee Services Team, providing logistical and administrative support for their Annual Meeting.
Reniece is passionate about making a positive difference in the lives of others, and she hopes to one day be able to empower communities around the world. In her free time, she enjoys traveling and spending quality time with her friends and family.