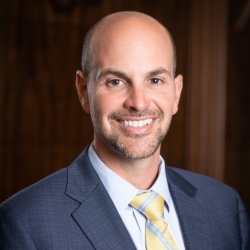 Ridgway White
Charles Stewart Mott Foundation
President and CEO
Ridgway White became president of the Mott Foundation in 2015, as the Flint water crisis was still unfolding. White led the Foundation's swift approval of a $4 million grant to help the city reconnect to the Detroit water system and begin the process of bringing clean water back to the community. He subsequently led the charge on Mott's commitment in 2016 to provide up to $100 million over five years to help the city recover and rise from the crisis — a commitment that was fulfilled in just over four years.
White is a vocal champion of the Foundation's support for a "one water" approach to managing the nation's drinking water, storm water and wastewater systems. In 2018, he joined other funders in leading a philanthropic response to the humanitarian crisis on the U.S.-Mexico border. He also has been the driving force behind the development of Mizzen by Mott, a new app that aims to deliver outstanding content to afterschool providers nationwide — at no cost to them.
As part of his earlier program work for the Foundation, White served as a loaned executive for the Uptown Reinvestment Corporation, a nonprofit organization focused on revitalizing Flint. Over the course of a decade, he oversaw the development of more than 1 million square feet of mixed-use space, paving the way for new businesses and restaurants to open. Notable projects included the creation of the Flint Health and Wellness District, a four-block area that's now home to the Flint Farmers' Market and the Michigan State University College of Human Medicine. The project won ULI Michigan's Real Estate Development project of the year award.
In a spirit of social entrepreneurship, White took it upon himself to build two schools that share a campus in the city of Flint. The project resulted in a state-of-the-art home for the Michigan School for the Deaf, which is operated by the state of Michigan, and Powers Catholic High School. 
White is a graduate of Hobart College, where he studied architecture, economics and urban planning. He serves as chair of the board of directors of U.S. Sugar and also serves on the boards of the Council of Michigan Foundations (CMF), Council on Foundations, The C.S. Harding Foundation, Isabel Foundation and Ayablu, a licensee of Burt's Bees doing business as Burt's Bees Baby. He is past chair of the National Center for Family Philanthropy and the Sloan Museum governing council. He served on Gov. Whitmer's Return to School advisory committee and as co-chair of CMF's COVID-19 Working Group.