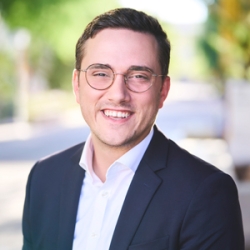 Shawn Donnelly
Council on Foundations
Director, Organizational Development and Learning
Shawn Donnelly is Director of Organizational Development and Learning, where he leads the implementation of an organizational learning and evaluation plan, focusing on identifying ways in which the Council can continue to strengthen its capacities.
Prior to joining the Council he served as the Strategic Learning Officer for Virginia G. Piper Charitable Trust, where he led efforts to assess and evaluate the impact of the foundation's grantmaking. Before working in philanthropy, Shawn worked as a researcher and program evaluator supporting community-led health and education initiatives. He currently serves as the Board President for the Arizona Evaluation Network, a state-wide membership organization supporting the professional needs of data professionals in the Southwest.
Shawn holds a Master's Degree in Community Psychology and a Bachelor's Degree in Psychology, both from the University of Massachusetts, Lowell. Originally from Lawrence, Massachusetts, Shawn currently resides in Phoenix, Arizona. You can often spot him on the local hiking trails with his two pups or cooking his favorite homemade pasta dish.