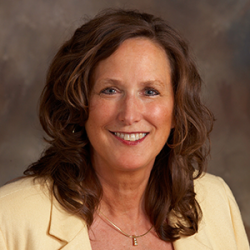 Sherry Ristau is the President/Chief Executive Officer of the Southwest Initiative Foundation, where she oversees more than $59 million in total assets. To date, the Foundation has contributed more than $53 million through its grant and loan programs to the 18-county rural area of southwest Minnesota with a strong focus on economic advancement, leadership/community development and growing philanthropy. Before joining the Southwest Initiative Foundation, she was an independent consultant, specializing in the areas of executive development, strategic planning, training and facilitating.
Sherry serves and provides leadership on several boards and committees including: Membership Committee for the National Council on Foundations, board of directors for Minnesota Council on Foundations, Southwest Minnesota Amateur Sports Commission, I.J. Burich Family Foundation and Tabitha's Heart. Past board leadership includes Ecumen services for the elderly, New Century Charter School, Hutchinson Area Health Care/Hospital and Building Business Investment in Community – a project of New Ventures in Philanthropy.
Sherry holds a master's degree in Organizational Leadership, a bachelor's degree in Sociology with a minor in Gerontology and a second bachelor's degree in Family Life and Child Development. A native of Blue Earth, Minnesota, Sherry and her husband reside in Hutchinson, Minnesota. They have lived in several communities in southern Minnesota and remain highly committed to rural Minnesota.