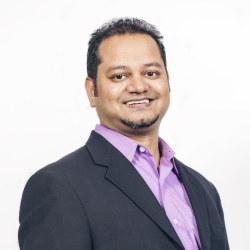 Srikanth Gopal
Humanity United
Managing Partner
Srik Gopal is the Managing Partner at Humanity United. In this role, Srik is responsible for shaping the organization's strategic direction, sustaining organizational values and culture, and ensuring that Humanity United delivers on its mission. He brings more than 20 years of experience working on strategy development and learning across nonprofits and social impact organizations. 
Prior to joining Humanity United, he was the Vice President of Strategy and Program at the Democracy Fund, also part of the Omidyar Group. At Democracy Fund, he oversaw the organization's strategy and programmatic portfolio and instituted learning systems to ensure that the organization is highly impactful in its work. Previous to that role, Srik served as Managing Director at social impact consulting firm FSG, co-leading the Strategic Learning and Evaluation practice. Prior to FSG, he spent a decade in leadership roles in the social sector at the New Teacher Center (a national education nonprofit) and the Ball Foundation.
Srik's articles and perspectives on systems change, strategy, trust-based philanthropy, and evaluation have been featured in various publications including, Stanford Social Innovation Review, The Guardian, Foundation Review, and Forbes India.  
He holds a master of business administration from the University of Michigan Ross Business School, a certification in advanced evaluation study from Claremont Graduate University, and an undergraduate degree in mechanical engineering from the Indian Institute of Technology.