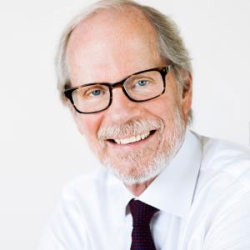 Stephen Heintz
Rockefeller Brothers Fund
President
Stephen B. Heintz is the president of the Rockefeller Brothers Fund, a family foundation with an endowment of approximately $1.2 billion that advances social change for a more just, sustainable, and peaceful world. Heintz coined the term "acupuncture philanthropy" to describe his philanthropic approach of leveraging modest financial assets to trigger larger systemic change on critical issues. In 2010, he set an ambitious path to align investment of the Fund's financial assets with its mission, resulting in its 2014 decision to divest from fossil fuels and establishing the RBF as a leader in the Divest-Invest movement.
Heintz, who began his professional life in public service for the state of Connecticut, has devoted his career to strengthening democratic culture and institutions to better serve citizens. Before joining the RBF in 2001, Heintz co-founded and served as president of Dēmos, a public policy organization that works to reduce political and economic equality and to broaden citizen engagement in American democracy. In 2018, he was named by the Academy of Arts and Sciences as one of three co-chairs of a national Commission on the Practice of Democratic Citizenship in the 21st Century. The Commission plans to release a report and recommendations in early 2020.
On the international stage, Heintz served as executive vice president and chief operating officer for the EastWest Institute during the 1990s. Based in Prague, he helped propel civil society development, economic reform, and international security as the bedrock of Central and Eastern Europe's burgeoning democracies. In 2002, he led the RBF's joint initiative with the UN Association of the USA to open a Track II dialogue that helped lay the groundwork for the Iran nuclear deal. The Iran Project, which he co-founded, keeps alive the possibility of a peaceful relationship with Iran despite the U.S. withdrawal from this historic agreement. In 2007, Heintz convened a meeting of the Kosovo Unity Team and prominent global diplomatic figures at the Fund's Pocantico Center, resulting in the Pocantico Declaration that set a path for the Kosovo independence process.
Heintz is a fellow of the American Academy of Arts and Sciences and a member of the Council on Foreign Relations and of the China Council for International Cooperation on Environment and Development. He serves on the boards of the EastWest Institute, the David Rockefeller Fund, and the Rockefeller Archive Center. He is the recipient of the Officer's Cross of the Order of Merit of the Republic of Poland.